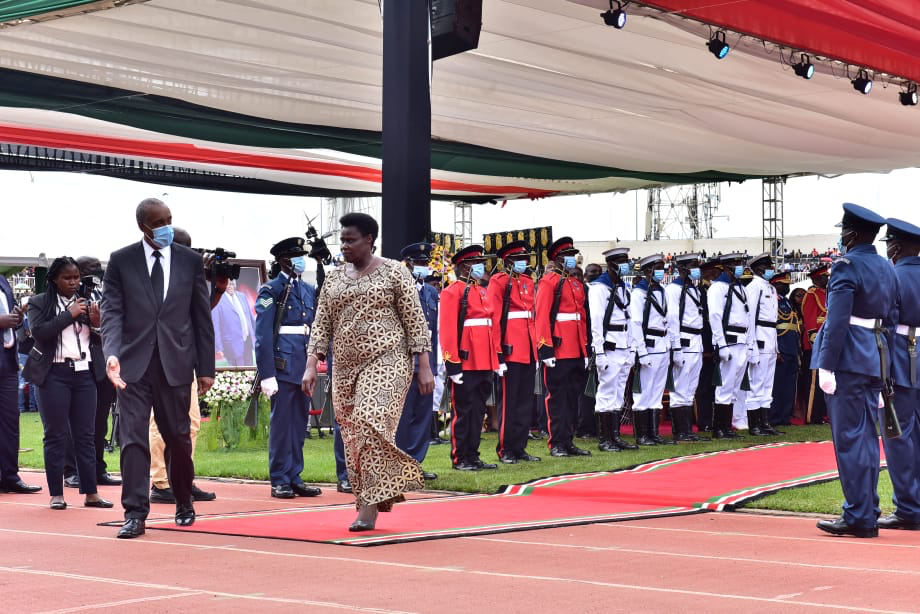 Vice President Jessica Alupo joined other heads of State and Governments from accross Africa to pay tribute and last respects to fallen Kenya's third President, H.E Mwai Kibaki.
The ceremony attracted crowds, with Presidents Salvar Kir of South Sudan, Cyril Ramaphosa of South Africa and Sahle-Work Zewde of Ethiopia also in attendance alongside the Prime Minister of Rwanda-Edourdo Ngirente, former Malawian President-Joyce Banda and several other dignitaries from different countries.
President Uhuru Kenyatta of Kenya led the tribute to a man revered and described by many as a statesman, one who laid a firm foundation for the development of the nation-Kenya.
"We come to mourn and celebrate a father and President, a gentleman, a measured man, a man of faith and honour, one of the last standing heroes of our Independence struggles, a modest man, and, quoting former World bank President Robert McNamara; one of the greatest economists in Africa.
Previous speakers had described President Mwai Kibaki as a man who was in service of Kenya for more than 54 years, an icon of tolerance, an
educationist, a man of great honour and strong legacy, a peace maker and broker, a man with great vision, a patriot, a man of great simplicity, and, a distinguished public servant.
His eldest son-Jimmy Kibaki who spoke on behalf of the family described his father as a man who excelled at everything he set out to do. "Excellence", he said, "didnt always mean being the best, but always trying. Let us dedicate ourselves to excel for Kenya", he added.
During the church service, the Archbishop of the Archdiocese of Nairobi-His Grace Philip A.S.Anyolo had requested that the ceremony remain calm. "We shall have no political undertones, no politics", adding that the family had requested that there be tributes, but not speeches.
The Archbishop called upon the congregation to emulate the departed leader "by his background, lifestyle and ways of work".
Kenya's Deputy President Samuel Ruto and Raila Odinga, who served as Prime Minister to Mwai Kibaki also spoke, praising a man whose death had united the nation in grief.
After the state funeral, dignitaries were hosted to a state luncheon at State House-Nairobi.
He will be buried at his home in Othaya, Nyeri County, tomorrow.
Ends
VP press Team