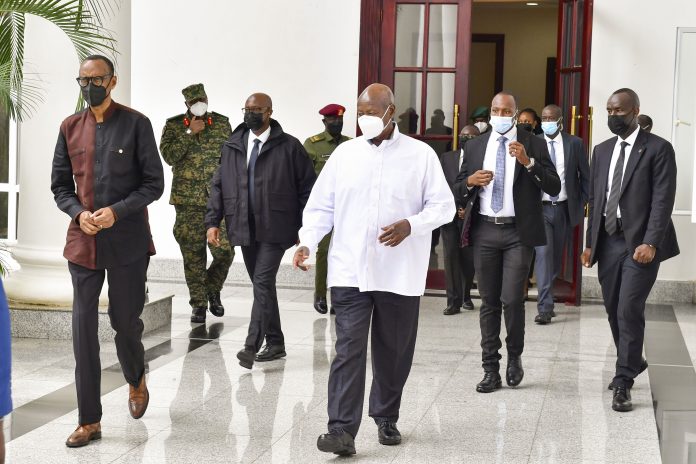 President Yoweri Kaguta Museveni together with the First Lady and Minister of Education and Sports Hon. Janet Museveni and the President of Rwanda H.E Gen. Paul Kagame last evening graced a dinner in honpour of Lt. Gen Muhoozi Kainerugaba.
The dinner was hosted by President Museveni and First Lady Janet Museveni in honor of Lt. Gen. Muhoozi Kainerugaba's 48th birthday celebrations that took place yesterday Sunday evening, at State House Entebbe.
Earlier on arrival at State House Entebbe, President Paul Kagame who is on a private visit to Uganda was received by President Yoweri Museveni, First Lady Janet Kataaha Museveni and the First Son who is also the Commander Land Forces Lt. Gen. Muhoozi Kainerugaba.
Later the two Heads of State went for a bilateral meeting where they discussed regional security and stability in a meeting that was also attended by the Security Minister Hon. Jim Muhwezi, First Lady Janet Museveni and Commander land Forces Lt. Gen. Muhoozi Kainerugaba.
At the dinner reception, it was fanfare and celebrations with great performances from traditional performers from Rwanda and Uganda.
Speaking at the dinner, President Museveni who welcomed his Rwandan counterpart to Uganda after a long time, gave a brief history of their relationship with President Kagame and the people of Rwanda since the times of NRA.
"We are very happy that you came. Thank you for responding positively to Muhoozi's invitation and you came. President Kagame is an old friend since way back in 1979. Kagame was among the group with whom I attacked Kabamba. When you hear about the 27 guns we started with, there was Fred Rwigyema, Paul Kagame and others. That time Muhoozi was only 5 years old," President Museveni narrated.
Mr. Museveni congratulated Gen. Muhoozi on his 48th birthday and revealed that his birth was a gift to the freedom fighter during their early days of the struggle.
"I want to congratulate you on your 48 years. Thank you, friends, of Muhoozi for organizing all these events. Muhoozi was a gift for us in our young days of the struggle because on 24th April 1974 is when he was born," Mr. Museveni said.
President Museveni saluted the First Lady for looking after their children who have turned out to be very responsible citizens since the time they were in exile. He added that he advised Muhoozi to join the army immediately after university so that he can build his character with the army.
"I want to thank Maama for looking after the children when they were in exile. When he finished University, I told him that he should first join the army because it will build his character," he said.
The President emphasized that part of the problems we experience in Africa are structural and the effect of weak armies.
"Many countries in Africa have got security problems because of the structure of their armies. People like Muhoozi joined the army not because of a job but because of his passion. That's why Muhoozi has made some contribution to the building of the UPDF," Gen. Museveni said.
Uganda, President Museveni said, had become a failed state but was restored by the NRA/NRM government through the four principles of Patriotism, Pan-Africanism, Social economic Transformation and Democracy.
"Ugandans saw something new in the NRM but would have achieved more if we had more committed cadres, with passion about development of their country. Finally, there is something positive about his tweets, because he tweets about his passion, on this and that. But the problem is that you should not externalize your passion. Work on the issues of the tweets and the surroundings of the tweets," he counseled
Speaking to a cheering audience, President Paul Kagame congratulated Lt. Gen. Muhoozi Kainerugaba for clocking 48 years and commended him for all the achievements registered during this period of time. He added that they have a lot of expectations in him.
"48 years means he has been here for some time but also means he is still very young. The question is how has he lived his time and how he intends to use his remaining time. There is no doubt, that many more years that are ahead, he will use them even better. I want also to say to Gen Muhoozi that there is a lot of expectations that you continue that path you have taken. Thank you for inviting me to be here for your birthday," President Paul Kagame said.
President Paul Kagame said, he was here to celebrate with Muhoozi's parents and friends but also happy to be here again after 4-5 years.
"I had not been coming to Uganda and the expectation I talked about earlier is based on the history we share together. There has been difficulties between our two countries, but I was convinced that these were going to be temporary. The ties that bind us together are strong and big," he said.
President Kagame said that when he received Gen. Muhoozi in Rwanda recently, he knew that the President of Uganda was behind his visit and the message.
"When we talked, the conversation was for peace for our country. I am convinced that great generals are not only those who fight and win battles but also those who fight and win peace," he said.
On a lighter note, President Kagame offered to edit Muhoozi's twitter account.
"Gen. Muhoozi I want to offer a service to you. I want to start editing your twitter account," he said.
The First Lady and Minister of Education and Sports, Hon. Janet Kataha Museveni praised and thanked God for his provision and protection of their family that has enable them see their son clocking 48 years while still alive.
"I want to thank God because he has been great to us as a family. In June this year I will be 74 years, and today my first-born son is 48. We are both here alive with my husband to witness. There is a reason to thank God," she said.
The First lady spoke highly about her son as a God fearing person, honest and humble.
"From his love for God, that's how he is honest and humble. I want to say to Muhoozi today at 48, God will never leave us nor forsake us. Please strive in all u do to love God with all your heart and serve him because he has used you, and served your country with dedication. I want to wish you a very happy birthday. I wish you many, many more years," Maama Janet Museveni said.
Lt Gen. Muhoozi Kainerugaba thanked God for giving him life this far and commended his parents, for raising him and his siblings and providing for them in everything.
"I want to thank God for letting me live up to 48 years and taking me through all has taken me through. I want to thank my parents, President Museveni and Maama Janet for raising us the way they raised us and educating us and mentoring us. All the good fruits are because of them. They did this under difficult circumstances." Gen. Muhoozi said.
In a special way, Gen. Muhoozi Kainerugaba saluted President Paul Kagame for gracing the function physically and personally.
"I want to thank in a very special way H.E Paul Kagame for honoring my invitation to come and grace this occasion. We know it is the beginning of many more good things to come. President Kagame is a very open and honest man. He is honest and straight forward," he said.
Gen. Muhoozi added that that he thinks that an honest interaction with President Kagame is what has helped Uganda and Rwanda negotiate a path back to friendship.
The Joint chief of stuff for UPDF, Maj. Gen. Leopold Kyanda who spoke on behalf of friends of Muhoozi described Gen. Muhoozi as a diligent listener, humble, respectful and a Pan-Africanist.
"He is a humble man and respects both his seniors and subordinates. He introduced a leadership conference, which brings together all commanders to discuss solutions. He is a peacemaker. He is a Patriot. He is a Pan-Africanist. He is a diplomat. Hard working, dependable. He is loyal and a consistent commander". Maj. Gen. Kyanda said.
Present at the function were; The Vice President of Uganda H.E Jesca Alupo, The Speaker of Parliament Rt. Hon. Anita Among, the Prime Minister of Uganda Hon. Robinah Nabbanja, the NRM National Vice Chairman, Alhaji Moses Kigogo, the Kyabazinga of Busoga, William Wilberforce Gabula Nadiope, the NRM Secretary General Hon. Richard Todwong, Service Chiefs, Minister and MPs among others.