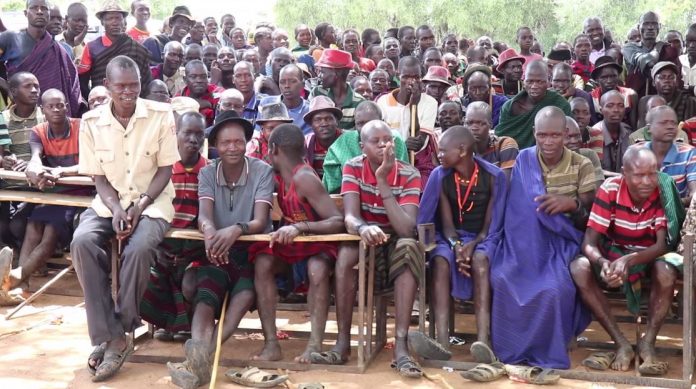 The security forces in Karamoja say they have strategically deployed in all hot spots in the region to eliminate criminals in all corners of Karamoja.
Security operatives say the situation is not out of hand as social media portrays it But some leaders in Karamoja saythe mode of operation in the current disarmament will not yield much success but instead may increase insecurity as it is currently in Kotido.
Since the joint security forces of UPDF and Police intensified intelligence led cordon and search operations in Karamoja on 16th last month, the region is experiencing relative peace with no raids and killings apart from Kotido district.
Kotido district has become a hot spot where murdering of leaders, road ambushes are reported almost on a daily basis.
Jackson Angeella Adome a Elder and opinion leader in Moroto district Elder who recently survived attack from the warriors at his home in moroto thanked security for the relative peace.
Adome explains what could be the cause of insecurity in Kotido.
Leaders say the mode of operation by security forces is not good but security officers say everything they are doing is guided by law.
Relatedly, John Robert Akiki Adupa the chairperson Karamoja Reformed warrior group wants Security forces to stop sending leaders to collect guns of the suspects has it has put lives of leaders at risk.
Angeela says that if the situation in Kotido is not contained it will spread to the rest of the districts which are now experiencing relative peace. There are allegations that Moroto Kotido roads have become un-accessible by road users due to road ambushes by armed warriors but security say the situation is contained.
Some leaders in Karamoja say there is need to improve on the security forces and community relations in order to eliminate criminal elements in Karamoja.
Elders in Karamoja want to meet with President Museveni to discuss the Karamoja problem.
Security forces calls for calmness among security as strategic deployments has been done.
Since operation Usalama kwa wote started in July last year over 300 guns have been recovered.