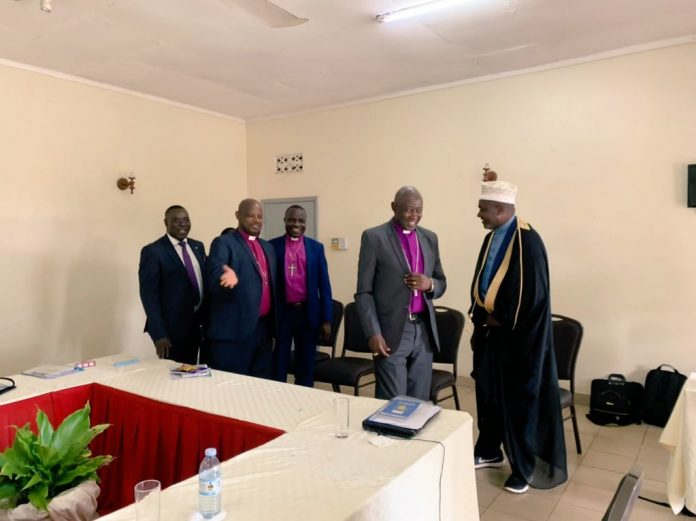 The Archbishop of the Church of Uganda, the Most Rev Dr Stephen Samuel Kaziimba has convened a meeting of senior religious leaders from the East African Region to discuss the ongoing conflict in Eastern Democratic Republic of Congo.
The meeting held under the auspices of the Inter Religious Council of Uganda at Namirembe Guesthouse in Kampala was attended by His Eminence, Sheikh Shaban Ramadhan Mubaje – Grand Mufti of Uganda/Co-Chair African Council of Religious Leaders; Bishop Francis Karemera representing The Most Revd. Dr. Laurent Mbanda – Primate of Rwanda; and The Most Revd. Dr. Ande Georges Titre – Primate of Democratic Republic of Congo.
Archbishop Kaziimba, the convener the meeting said the meeting was to re-affirm their commitment on peace, security and democracy in the Democratic Republic of Congo and the East African Community at large.
The religious leaders in their joint communique stressed that they are deeply troubled by the situation in Eastern Democratic Republic of Congo. They revealed how they are particularly concerned by the loss of life and property that has been brought about by the conflict, including the increase in the refugee crisis, tribal and national sentiments, xenophobic tendencies which could result into a genocide.
The current situation in the Eastern Democratic Republic of Congo combined with economic downflow characterized by the increase in the prices of goods and services within the region threatens to undermine the aspirations of the East African Community.
However, the religious leaders appreciated the steps being taken to integrate the Democratic Republic of Congo into the East African Community and urged the political leadership to urgently use this framework to resolve the ongoing crisis.