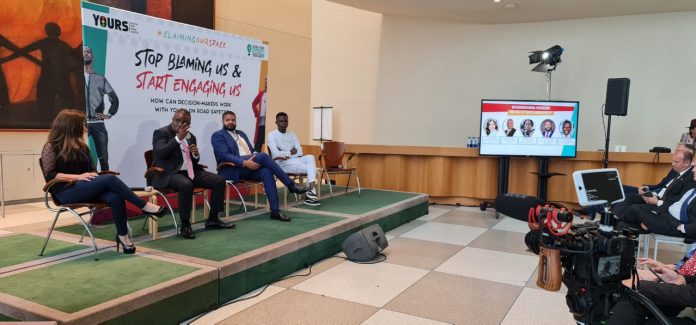 The Kampala Lord Mayor Erias Lukwago is currently attending a High Level meeting of the United Nations General Assembly on improving global road safety on invitation by the President of the UN General Assembly H.E Abdulla Shahid, at the UN Headquarters in New York.
The Lord Mayor made a presentation at an in-person side-event at the Swedish Embassy under the theme; "Integrating Road Safety into the SDGs – lessons learned and achievements." This was intended to further manifest the multi-sectoral ambitions of the Stockholm Declaration on Road Safety where the role of Political Leaders is key in the second decade of action. Here, he underscored the need for member countries especially Uganda to implement appropriate campaigns to raise awareness and domesticate the commemoration of the World Day of Remembrance for Road Traffic Victims every third Sunday of November.
Regarding commitment No.5 of the Stockholm Declaration, which emphasizes ensuring political commitment, the Lord Mayor stressed the need for the UN to call for transformative leadership from high levels of national and sub national governments to have budgets for Road Safety.
For Kampala, the support to develop the Road Safety Strategy and the first Road Safety Report came from Bloomberg Philanthropies Initiative on Global Road Safety, we lose ten people every day to road crashes he noted.
The Stockholm Declaration introduced the road safety target as integrated with the rest of the SDGs and stressed the multisectoral characteristic of the road safety challenge and the same also launched the idea to reach a 50% reduction in deaths and injuries over the next decade.
The Lord Mayor further joined the panel organized under the auspices of Youth for Road Safety (YOURS) and FIA Foundation. Young people are paying an unacceptably high price for their mobility. Globally, Road traffic crashes are the leading killer of those aged 5 to 29 making it an urgent public health threat to the lives of young people.
The Lord Mayor accentuated the need for mindset change as opposed to penal sanctions while dealing with the youth who engage in high risk behaviours, such as; driving under the influence of psychoactive substances, speeding among others. He demonstrated that Kampala has boda bodas as the predominant means of transport which also contribute 45% of the crashes and majority operators are young people.
He added that we therefore need to go the Bogota way of regulating them as opposed to the Abuja heavy handed approach where the Federal Capital Territory Administration opted to crush motorcycles arrested contravening the regulations by riding against the traffic within the Federal Capital City.
The climax of the event was the launch of the Policymakers Toolkit which offers step-by-step guidance for policy makers and practitioners on how to systematically mainstream meaningful youth participation into road safety policies and programs.