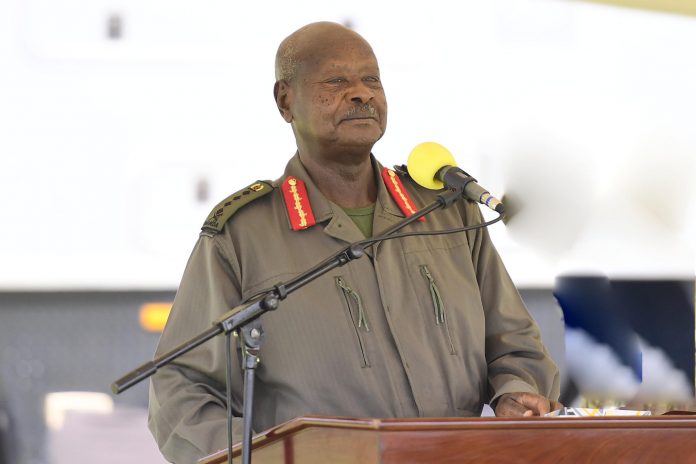 President Yoweri Kaguta received a special message from H.E Felix Tshisekedi Tshilombo, President of The Democratic Republic of Congo (DRC) at State House Entebbe.
The message was delivered by a Congolese delegation led by the Senior Minister of Works Hon. Alexis Gisaro Muvunyi.
Others on the delegation were; Maj. Gen Ntumba Frank Buamunda, Special Presidential adviser on Military Affairs and Lt.Gen. Rwuibasira Obed Ruyumba, Chief of stuff in charge of Operations among others.
In the message, President Tshisekedi is seeking guidance from his Ugandan counterpart President Museveni on how best they can handle the crisis in Congo.
Addressing the Congolese delegation, President Yoweri Kaguta Museveni thanked President Tshisekedi for sending him a high level delegation to talk about peace in Congo, and the region.
"I thank President Tshisekedi for sending you. I want to give you my long experience. We have been fighting wars for a long time, for the last 50 years here in Uganda and some times in the neighboring countries. If you want to fight and win, you must fight a just war". President Museveni said.
The issues of insecurity in Congo, President Museveni said goes a long way back and started by the killing of Patrice Lumuba who was a Pan-Africanist.
"After Killing Lumumba, that was the beginning of trouble in Congo, because Lumumba was a Patriot, a Pan-Africanist and was legitimate. Traitors killed him. That is how the problem of Congo went from Political to war" The President said
Mr. Museveni, appealed to the Congo authorities to resolve the unfinished political issues genuinely and correctly and peace will return to Congo.
"It is very easy to bring peace to Congo but I think you should do it in a correct ideological way. If you can, talk to them if they are not resisting. Therefore, my proposal is see how you win them over". He advised.
President Yoweri Museveni advised that the correct way to solve this problem once and for-all is to have a Cease Fire in place, to engage regional leaders and finally have dialogue in place.
"My proposal is to solve this problem completely. I propose three things, Have cease fire completely, where there is no one fighting, Let the Regional people come in (Kenyatta of Kenya) and finally engage and Dialogue with M23 people so that you listen to their issues". President Museveni advised.
President Museveni commended his Congolese counterpart President Felix Tshisekedi for his efforts in wanting to stabilize Congo. He thanked him for strengthening bilateral cooperation between Uganda and Congo since he came to office.
On his Part, the Head of delegation and Congolese Senior Minister of Works Hon. Alexis Gisaro Muvunyi convey warm regards to President Museveni from President Tshisekedi.
"Mr President we are happy to be here, Allow me to convey warm greetings from President Tshisekedi. Thank you for the warm reception. The delegation here was sent by President Tshisekedi to brief you about the security situation in our country." Hon. Alexis Gisaro Muvunyi said
Since President Tshisekedi took power, Hon. Alexis Gisaro Muvunyi said, He has developed an open political relationship with every one in Congo and with neighbors.
"As I talk now, the M23 is occupying Bunagana. We are here to seek guidance because you are a Pan-Africanist who believes in the development of Africa that depends on peace and security". He said.
The delegation stressed that they don't want arms in the region but they want development.
"We are open to negotiations, we accepted regional forces to come, but they (M23) have to show good will" He said
The Congolese delegation commended the recent strides made between Uganda and The Democratic Republic of Congo, when the two states agreed to have a joint force to flash out ADF, the building of two roads in Congo and Starting direct flights of Uganda Airlines to Congo.
The meeting was attended by the Ambassador of Congo to Uganda H.E Amb. Jean Pierre Massala.