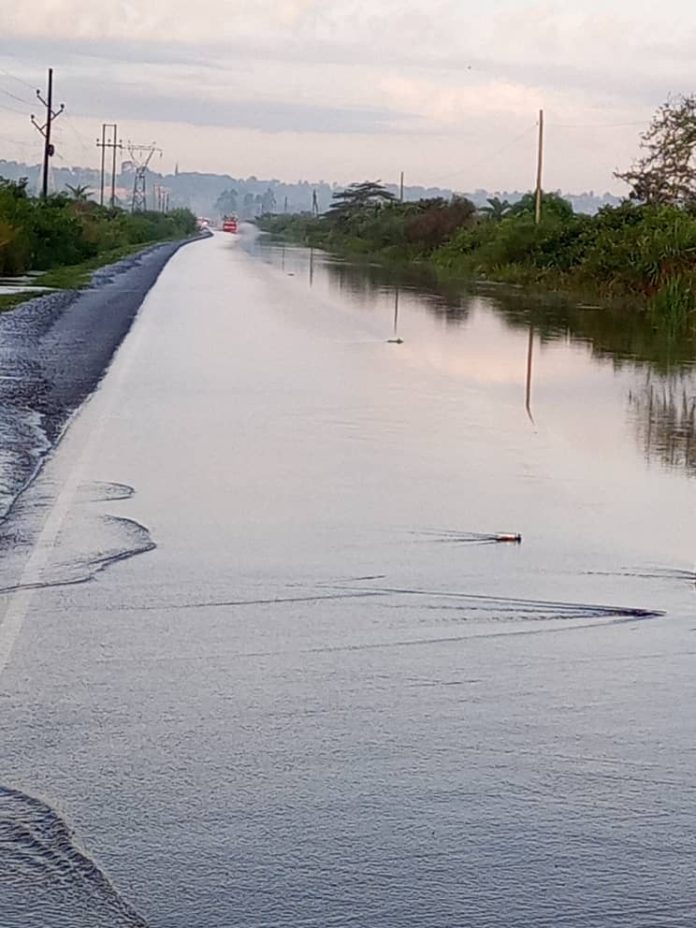 The National Environment Management Authority (NEMA) issued a statement indicating that Multiple flooding incidents in the country are an indication of Climate Change The country is experiencing enhanced rainfall with areas around Lake Victoria getting as high as 512.4mm of rainfall in Lwengo, Entebbe at 493.1 mm, Buyende at 459.7mm and Mukono at 411.5mm between the end of April and early May 2023.
According to information from Uganda National Metrological Authority, the highest rainfall was concentrated around the Lake Victoria basin, the Mount Elgon sub-region and isolated parts of the Bunyoro region.
NEMA explained further that Because of the enhanced rainfall above the normal average and above the Long Term Mean (LTM), the country is experiencing flooding. "We have seen floods in areas of Kigezi, Mbale, Sembabule, Rwenzori, Kampala and more recently Katonga river flooding that damaged the Katonga bridge." the statement showed.
NEMA added that severe flooding has also been experienced by neighboring countries in the Great Lakes region with scores of lives lost. Southern Africa, Asia, Europe and America have experienced similar flash floods as well with significant damage to infrastructure and lives.
The statement shows that At River Katonga, the current water levels are still below the highest recorded levels of 2022 (about 5.0m) and 2021 (about 5.3m). The current water levels are approximately 4.6m meaning that there is a likelihood of further increase in water levels and hence more flooding and the rainfall forecast indicates that we shall receive more enhanced rainfall even in June 2023.
NEMA says that the flash flooding we are seeing is a consequence of climate change. A warmer atmosphere holds more moisture. For every degree of warming, the atmosphere holds around 7% more moisture. More moisture means that more rainfall comes in short, intense downpours hence increasing the risk of flash flooding. The extra heat in the atmosphere means there is more energy for weather systems that generate intense rainfall.
NEMA further adds that the increasing frequency and intensity of floods are among the consequences of the global crisis that manifests through erratic weather conditions, unusually high rainfall, extreme heat (heat waves) and above normal rainfall leading to rising water levels.
The NEMA statements revealed that the impacts of climate change can be alleviated by restoration and conservation of the fragile ecosystems including forests, wetlands, hilly and mountainous areas, lake shores and river banks.
However in a statement produced NEMA has appealed to all the people in Uganda to:
Immediately vacate wetlands, steep slopes, riverbanks and lake shores to avoid environment damage and resultant danger to lives and property
Embrace agroforestry, terracing and trenching so that we do not have easy wash away of soils and resultant siltation of lakes and rivers which increases flooding impacts
Avoid deforestation especially through unsustainable charcoal burning and wood production and increase afforestation of land to increase water retention and filtration
Reduce emissions through use of cleaner energy, proper servicing of vehicles, avoiding open burning of waste, avoiding littering and embracing circularity
Restoration of damaged ecosystems to enhance our resilience and adaptation capacity
Engaging global polluters who are responsible for climate change to stop further pollution and compensate victims of climate change
Ensuring that all our critical infrastructure is designed to withstand extremes of climate change (Climate proofing) e.g. suspending roads above wetlands, use of stronger and resistant materials and embracing climate smart technologies
"Each one of us can play a role in reversing the monster of climate change that is ravaging the world. We need to build more resilience and adaptation immediately as we continue to mitigate the impacts at local, national and global scale." Statement added.