The recently concluded 2nd Edition of the Uganda-United Arab Emirates(UAE) Trade and Investment Business Forum, has wrapped up its proceedings at the Speke Resort Munyonyo in Kampala. Over four days, leaders and delegates explored avenues of collaboration under the theme 'Uganda, the Gateway of Doing Business in the EA Community Region.' The proceedings were inaugurated by His Excellency President Yoweri Museveni and Honorable Rashid Abudu Karim, the Under-secretary of Abu Dhabi Investment and Development, setting the stage for a wealth of discussions. Key areas of focus included Uganda's robust market potential, its agro-processing sector, and the rich natural resources poised for investment. Below is a comprehensive insight into the strategic partnerships forged, and the economic opportunities unveiled during this transformative event.
"
1.The 2nd Edition of Uganda – UAE Trade and Business Forum opened in Kampala by H.E. President Yoweri Museveni and  Hon. Rashid Abudu Karim the Under-secretary of Abu Dhabi Investment and Development, Forum also Leader  of Delegation. The theme of the Forum: Uganda, the Gateway of Doing Business in the EA Community Region"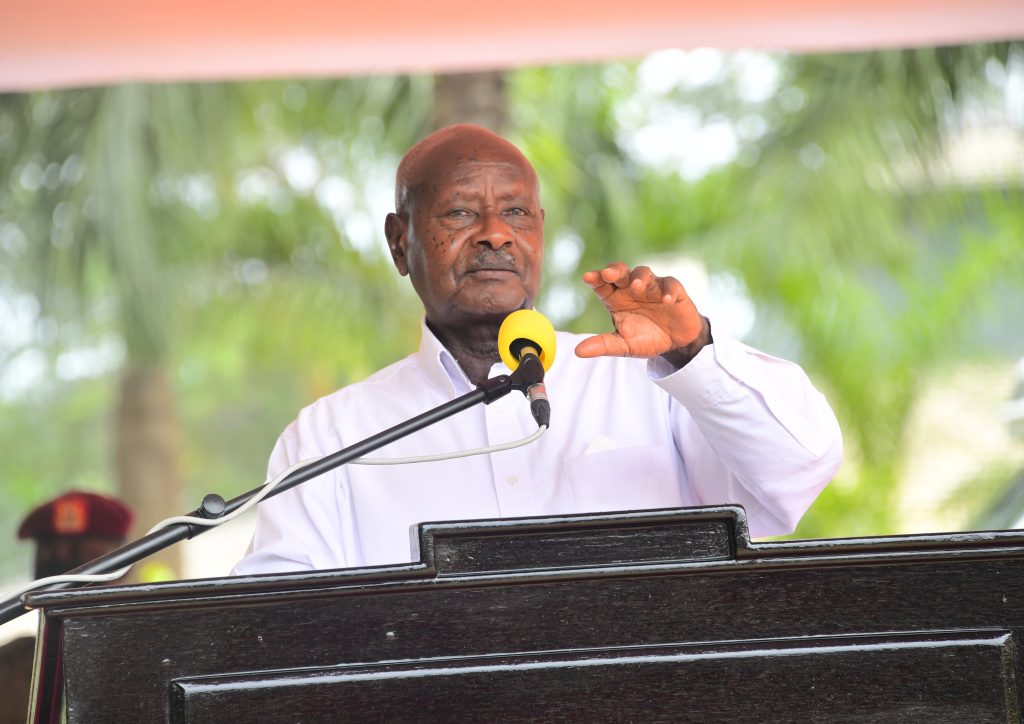 2.H.E President appreciated Hon Rashid for choosing Uganda as Investment destination by assuring Hon. Rashid that Uganda has a big market right from 46 million Ugandans at local level, 300 million people at regional and 1.5 Billion people at continental level if work under the Continental Free Trade Area (AfCFTA) as well as International blocks like the AGOA and European Union. The President noted that Uganda's Agro-processing sector is rich in grains, milk, beef and fruits and forests and plans in place to produce lithium batteries whose cars are already in production. Thus Uganda is the right place of doing business because goods produced have ready market and therefore thanked the Private Sector for the economic development of Uganda.
3.Besides security, President Museveni informed UAE delegation that all the necessary infrastructure (communication, water, electricity, transport among others) are in place and potential of natural resources to harvest and do business, including trading in Pathogens/vaccines. He projected that Africa's population will be 2.5 Billion by 2050 and shall be a huge market potential for huge investment on its 12 million Sq miles of Land.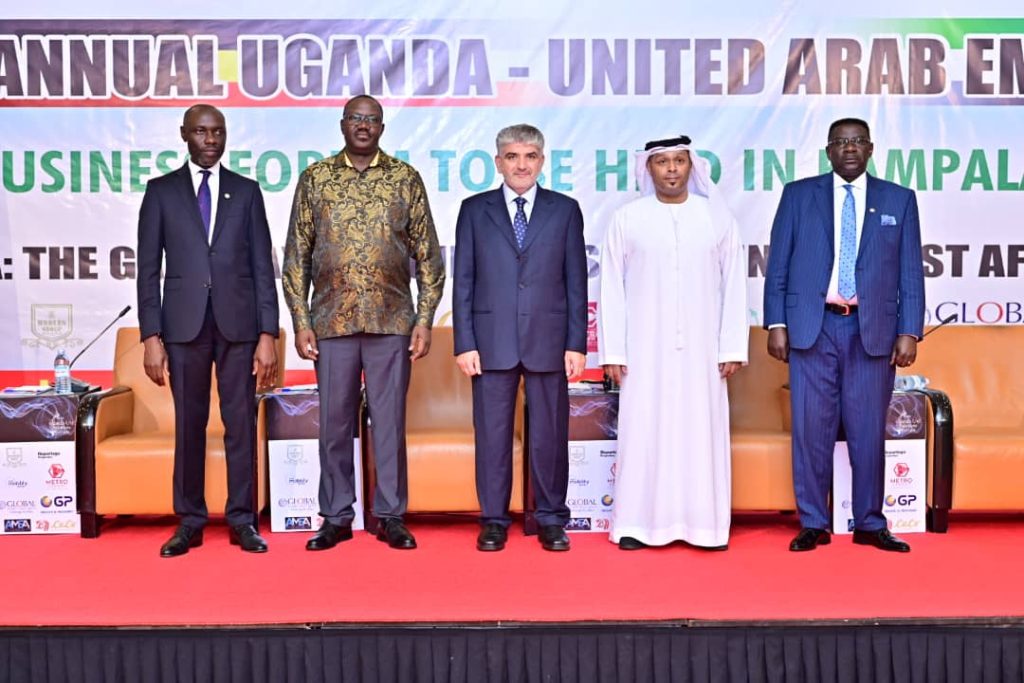 4.The President also took the opportunity to appreciate MS. SHARJAH Chamber of Commerce of the UAE that is expanding Kidepo National Park Runway from 1.5km to 3.5Kms.
5.On her part, Prime Minister, Rt. Hon. Robina Nabbanja applauded Ministry of Foreign Affairs and Uganda Embassy to UAE for the continued negotiations through JPCs and Joint Ministerial Commission (JMCs) with true partners of Uganda like Abu Dhabi, through these meetings Uganda can enrich Business and Investment deals and put synergies that attract FDI. The Rt Hon. Appreciated UAE for opening a Uganda Consulate in Dubai which has further boosted Uganda's exports from $46.5m in 1997 to $1.4Bln by 2022.
6.On the theme of the Forum, the Minister of State for Investment & Privatization Hon. Evelyn Anite commended the UAE delegation, the Government and the Private Sector who have championed this 4day Event especially the 200 Investors who have participated and broken Business deals through B2B Sessions. By this, Uganda is set to expand her present GDP of $48.2Billion to $500Billion given her outstanding performance as being Number One Investment Destination in East Africa and 3rd in Investment Returns in Africa.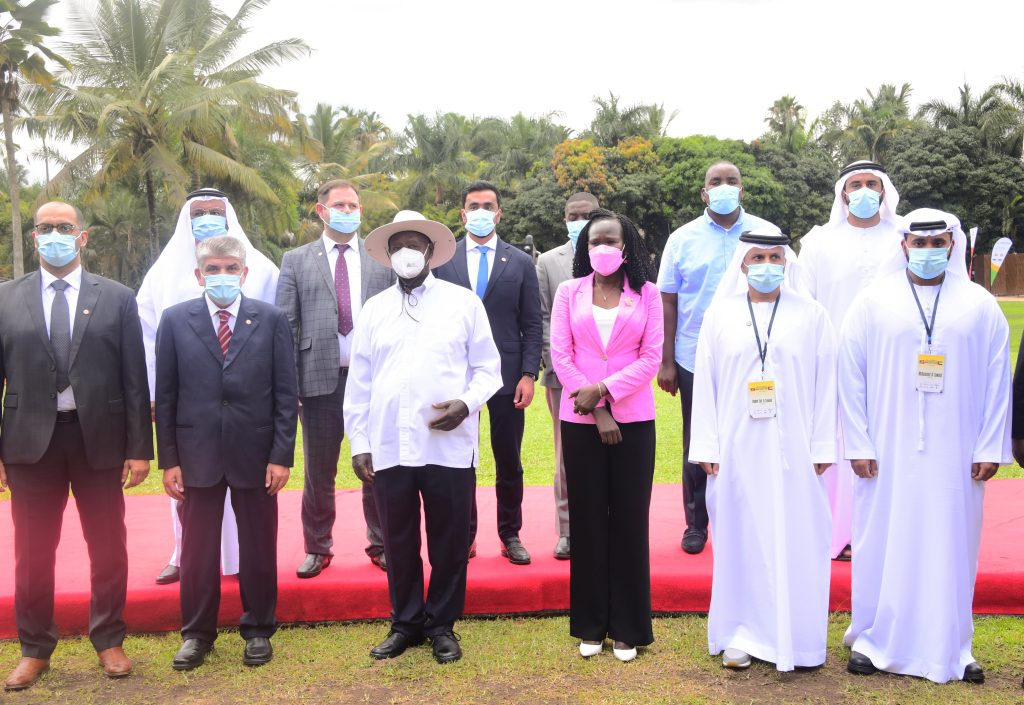 7.The Country is much grateful to H.E Zaake Kibedi Uganda's Ambassador to the UAE and Consulate General to Dubai Ambassador Henry Mayega for their unwavering efforts to organizing the Dubai Expo in 2020 and since then, Uganda's exports increase from $300M to $3Billions in 2022, largely due to Trade and Investment deals that were concluded equivalent to $2Billions. Through Good Consular Services, the combination of FDI and other remittances have tremendously increased from $200Billions in 2018 to $3Billions, in 2022. Uganda is proud of you and Ministry of Foreign Affairs looks forward to the 3rd Annual Event and the 7th Uganda-UAE Convention next month, all geared to further promote Commercial and Economic Diplomacy to far greater horizons.
8.At this 2nd Annual Business Forum, Government of the Republic of Uganda appreciates Mr. Rashid Abdul-Karim Al Bloosh, the Undersecretary of Abu Dhabi Department of Economic Development who in 2022 proposed that this Year's Event be held in Kampala, H. E Abdulkarim has led a total of over Three Hundred (300) high profile Trade delegation to Uganda with one objective of Sustaining Economy-based Knowledge and Innovations opportunities. Special thanks to the Embassy of UAE to Uganda for coordinating this Event.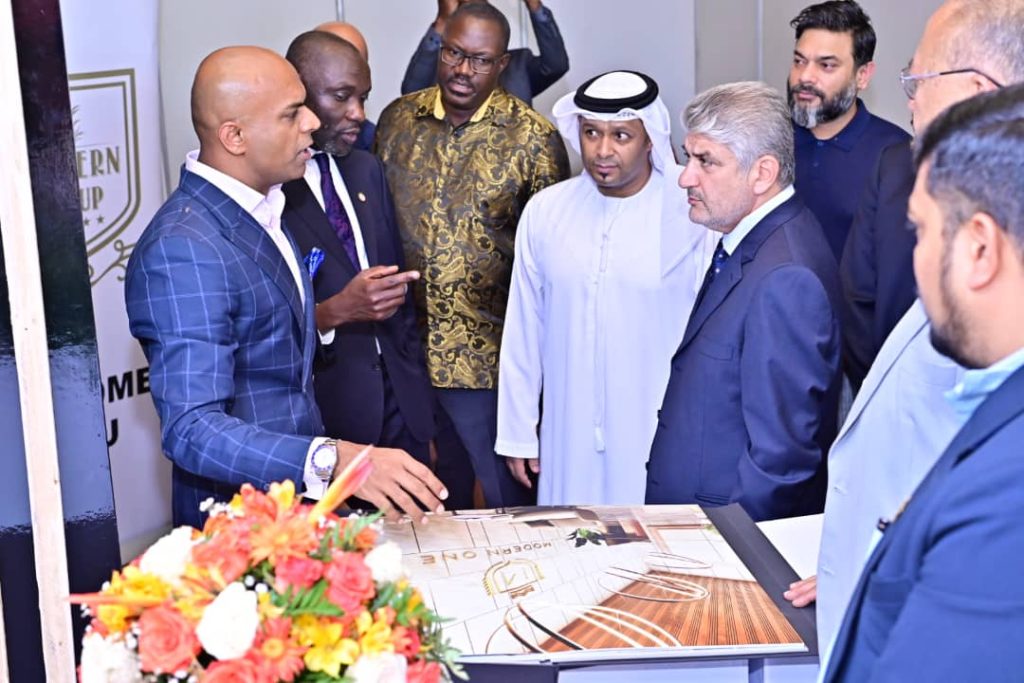 9.The Team also had a series of B2B deep sessions with Ugandan Business Partners in Areas of Energy and Petroleum, ICT, Trade and Tourism, Oil and Gas, Transport and Real Estate as well as Agriculture and Agri-Business, including engaging the Delegation into a number of Bilateral Discussions with H.E the President. The delegation engaged Field Visits to Bulisa.
The Delegation appreciates the good hospitality accorded to them and take the opportunity to congratulate Uganda for the 61 Years of Independence.
10.The participants of the 2nd Edition of Uganda – UAE Business Forum commend the Educative Remarks on the WHYs and HOW to do Business in Uganda from the following Panelists and Moderators;
(i)The Director General of Uganda Investment Authority
(ii)The Executive Director, KCCA
(iii)The ED/Uganda Free Zones Authority
(iv)The CEO/Uganda Tourism Board
(v)The ED/Uganda Export Promotion Board
(vi)The ED/Uganda Revenue Authority (URA)
(vii)Representatives from URSB, UMA, UNCC&I & MUBADALA.
11. Government and UAE Delegation commends the Ugandan Private Companies who joined hands to ensure this 2nd Annual Business Forum take place in Kampala; the Management and Staff of Speke Resort Munyonyo and above all Mr. Morris Mugisha the Director of Programs of this Annual Business Forum.
"