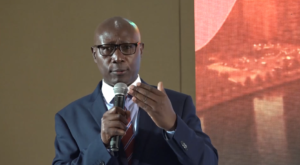 On Thursday 31 st March 2022, the Expo 2020 Dubai, The World's Greatest Show,
will officially come to a close. It has been an exciting and productive six (6) months
for the 192 participants and a great opportunity for countries and organizations to
interact and collaborate on various issues and subjects with the objective of
Connecting Minds, Creating the Future. The Government of Dubai and the
Government of UAE have indeed continued to demonstrate their true leadership and
determination through the great work done to ensure effective participation of all.
International expositions (Expos) are held every five (5) years as a world platform
where countries and organizations come together to collaborate, discuss and forge
solutions to the world's challenges.
The focus for Expo 2020 Dubai has been on Sustainable Development Goals
(SDGs) that were agreed by all members of the United Nations. The next Expo will
be held in Osaka Japan in 2025 and Uganda will be there to continue to remind and
reassure the world about our presence and partnerships with other countries in our
one world.
The fundamental question, however, is always about why Uganda participates in
these expositions. Expos bring together countries and international organizations
such as the African Union (AU) and the United Nations (UN) in one place at the
same time for a period of six (6) months. They are therefore an opportunity for
countries to brand, promote and market whilst building sustainable and stronger
bilateral and multilateral relations with other countries.
Uganda participated in the Expo 2020 Dubai with the objectives of promoting
trade(exports), investments and tourism. This was in addition to using the Expo as a
platform to enhance bilateral relations with participating countries, especially the host
Government of UAE. To achieve these objectives, we had the Uganda Pavilion in the
Opportunity Thematic District where we showcased what Uganda's interests in
tourism trade, and investments lie (including operating a promotions office at the
Expo, 2 nd floor of the Pavilion), and undertook activities that foster direct linkages,
engagements and collaboration with the public and private sector of the UAE,
participating countries and key organizations. These defined what we referred to as
the 6-month enhanced country program. Our partnership and collaboration with Expo
2020 management and the Government of UAE was very essential to the
implementation of this program.
Although the Expo officially opened its doors to the world on 1 st October 2021,
Uganda's participation at this Expo officially started on the Uganda National Day held
on 3 rd October 2022. H. E. The President was the Leader of the Uganda delegation
and was hosted by His Highness Sheikh Maktoum bin Mohammed bin Rashid Al
Maktoum, UAE Vice President and Prime Minister and Ruler of Dubai. It is important
to note that Uganda was the second country in the world and the first African country
to hold its National Day at the Expo. Other key activities at Expo included the 1 st
Uganda Tourism, Trade and Investment Forum in October 2021, the Uganda – UAE
Convention in December 2022, the Uganda – UAE Trade and Investment Road
Show and Agriculture Theme Week in February 2022. The last activity, that will also
double as the official closing of Uganda's participation in Expo 2020 Dubai is the 2 nd
Uganda Tourism, Trade and Investment Forum to be held on 26 th March 2022.
Over 90 bankable projects were profiled and have been promoted over the 6-month
period. Products of focus promoted by Uganda at the Expo included coffee, black
tea, cocoa, grains (especially beans and sesame), fruits and vegetables, milk
powder and fish. Uganda tourism was promoted with e various tourism products that
Uganda, the Pearl of Africa, is well known for such as mountain gorillas tracking,
birdwatching, National parks, Mountains of the Moon, source of the Nile, food and
culture; among others.
During this the period, there were 50 to 125 business personalities and potential
investors in each of the events held on the Expo site, Dubai, Sharjah, Fujairah and
Ras Al Khaimah. The various Chambers of Commerce of the different Emirates have
been strategic partners in all these engagements and collaborations.
Investment promotions:
90 expressions of interest in the investment projects have been registered over the
period. The Embassy and concerned MDAs are working to ensure that at least USD
4 billion, the target set for Expo, is realized out of this interest. Today progress has
been made with an investment by Elite Group in upto seven (7) tea factories in
Buhweju, Zombo and other tea growing areas. Also, discussions are ongoing for two
(2) solar and wind energy projects in Northern Uganda. There is also an expression
of interest from an India-based investor targeting a PPP arrangement for a 150-bed
modern hospital. There are other potential investments in livestock and diary, food
collection, packaging and shipment, logistics management, forestry management,
and hospitality.
Export Promotion:
42 expressions of interest in Uganda's export products have been registered at the
Pavilion and through the various activities and meeting held in the period. For
example, expressions of interest for 100MT per month of grains, and 1,000 heads of
cattle (bulls), increasing to 4000 per month after 6 months, have been received as a
result of the various meetings held by the Pavillion, Embassy and Ministers of
3
Agriculture during the Agriculture Week. There are also 3 ongoing discussions with
potential buyers of Uganda's coffee per month. This is a result of several coffee
promotions including coffee tasting activities at the Pavilion. Black tea samples have
also been submitted to the Dubai Multi-Commodity Center (DMCC) – Tea Division
for testing on request from a potential UAE based buyer.
Tourism Promotion
66 potential tourists were registered at the Pavilion and linked to tour agents and
planners in Uganda. This is in addition to up to several tour and travel agents, based
in the UAE and other countries, interested in including Uganda on their menu of
destinations offered to clients.
The Uganda Pavilion has also hosted a number of high-level dignitaries as part of
efforts to strengthen bilateral relations with target markets. Prominent among them
was H.E. Yoweri K. Museveni, the President of the Republic of Uganda, His
Highness Sheikh Maktoum bin Mohammed bin Rashid Al Maktoum, UAE Vice
President and Prime Minister and Ruler of Dubai, H.H. Shakhboot Nahyan Al
Nahyan Minister of State for Foreign Affairs UAE, H.E. Ohoud Al Roumi Minister of
State for Government Development and Future, Lord Dolar Popat UK Prime
Minister's Special Envoy for Uganda and Rwanda and H. E. Alexey Gruzdev Deputy
Minister of Industry and Trade of the Russian Federation.
While Uganda achieved its set objectives for its participation at the Expo, there were
a few challenges that had to be addressed. The Covid pandemic affected Uganda's
preparation and effective support for its participation in this Expo. It should be
appreciated that the country, and world at large, spent much of 2020 and 2021
grappling with the impact of the COVID-19 pandemic. This affected government's
budget and hence funding available for several Government planned activities
including Expo 2020 Dubai. Still, Uganda emerged resilient in this period the
pandemic and put up a good show at the Expo.
We are grateful to Expo 2020 Management, Dubai Emirate and the entire
Government of UAE for the supporting Uganda with a stand-alone country pavilion
which had both the exhibition space on the ground floor and the offices and
conference rooms on the 2nd floor.