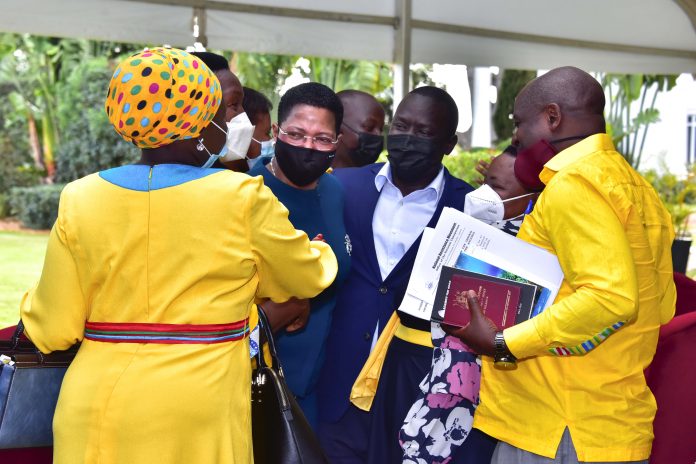 The 8th Meeting of the 4th Central Executive Committee of the National Resistance Movement Party sitting in Emergency Session at Entebbe today 23 rd March 2022 endorsed deputy speaker of Parliament Hon: Anita Among as the party candidate for the position of the speaker. Below are the full minutes captured from the meeting that was chaired by the Party Chairman Yoweri Museveni.
1. To place on record, our distinct recognition and warm acknowledgement of the sterling contribution of Rt.Hon. Jacob L'Okori Oulanyah (RIP) , Speaker of the Parliament of Uganda , to the vigorous advancement of the Programs of National Resistance Movement;
2. To clearly recognize the vibrant functioning and meticulous implementation of legislative agenda of the Parliament of Uganda under the clear watch of Rt.. Hon Oulanyah;
3. To hold out his life and exemplary leadership as an example worth emulating,, by the entire membership of the NRM and all Ugandan Patriots..
4. Pursuant to the provisions of Article 13 (33) , (aa) ,(i) and (j) of the NRM Constitution and Rule 9(33) of the NRM Parliamentary Caucus Rules of Procedure 2014, the Central Executive Committee resolves AS FOLLOWS :
That the Central Executive Committee having considered the twelve ( 12 ) names of members who expressed interest for election to the position of Speaker of the 11 Parliament of Uganda and having noted the withdrawal of the candidature of Hon. Dr. Jane Ruth Aceng and that having interacted with all the candidates except Hon.. Achieng Opendi Sarah who did not attend the interaction .
CEC having noted that the NRM Party has established a culture and practice of elevating the Deputy Speaker to the position of Speaker,, even when there has not been a n y disruption and now even more when there is an emergency.