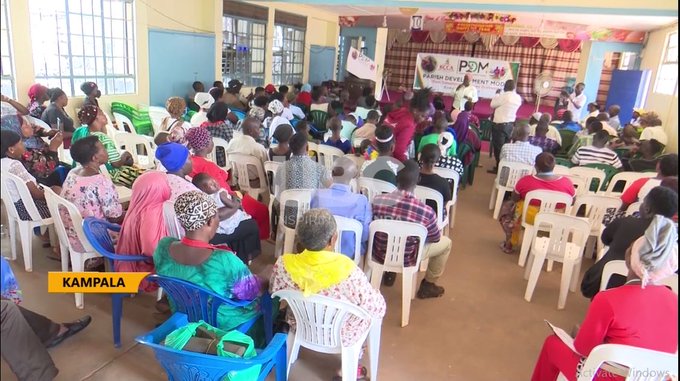 The head coordination for Parish Development Model Program in Kampala; Hajjati Asia Kinabi Nabiseere has assured Kampala residents that government set aside enough money to uplift subsistence earners. Her confirmation was made in response to Nakawa division dwellers where she sensitized groups about the program. However, they queried funds might not be sufficient to the population
It is the third day in a row since the focal person for Parish Development Program in Kampala Hajjati Asia Kinabi Nabiseere started sensitization campaigns about the Program's agenda of uplifting livelihoods of subsistence earners in the five divisions of Kampala district.
Unlike the initial programs where government funds were inappropriately used due to lack of knowledge among beneficiaries, Parish Development Model takes priority of training them before they can receive the funds.
The training was conducted in Nakawa division where Hajjati Kinabi met and sensitized groups that include: 11 zone from Banda Parish, Ntinda, Kyambogo to mention a few.
Among those in attendance to benefit from the funds were: Chapatti dealers, mango, maize and tomato vendors, artists who said they eagerly waited for the funds.
Despite the query among political leaders and residents about whether the funds will be enough citing the population in parishes, Hajjati Kinabi assured government will do whatever it takes.
The funds are expected to be deposited on the different group accounts with effect from 15th June.