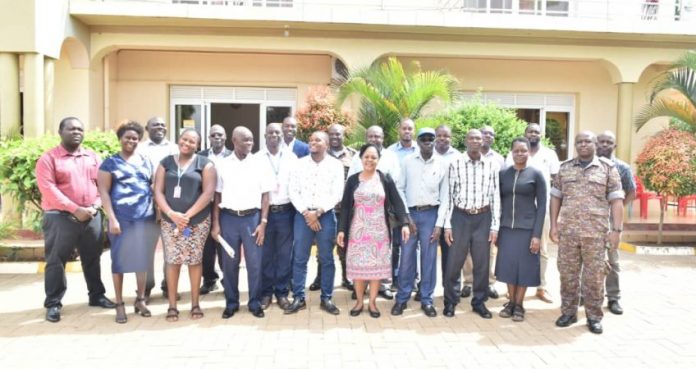 Uganda civil aviation authority (UCAA) has concluded its search and rescue sensitization training in eastern region with a call to residents to take quick response in case of any plane accident in their respective areas.
Search and rescue is a government initiative rolling across the country to equip Ugandans with skills to locate aircrafts, rescue occupants and save their lives.
According to Moses Wabomba from air traffic management department of civil aviation authority Search and rescue sensitization of locals in different areas is set to equip community members on how to rescue planes occupants in case of accident.
Given the previous plane failures that led to accidents in different parts of country, Uganda civil aviation authority moved out to sensitize security officers, medical teams and local communities on how to approach, search and rescue plane occupants in case of a plane accident.
Moses Wabomba who represented the manager air traffic management department of civil aviation authority during sensitization training in eastern Uganda said Ugandanshave to play a positive role in rescuing the planes occupants.
On a different occasions the country has experienced a series of aircraft failures with the recent that fallen in Gogonyo Pallisa district in December last year where a female Pilot survived after a rescue by a certain community member. Prossy Zalwango from air traffic management Civil aviation authority urges community members to engage police and local leadership the local leadership need to prioritize lives first in case of any aircraft accident.
Civil aviation authority has observed that in most plane accidents, the locals prioritize on viewing the aircraft that rescuing the occupants. Wabomba Moses however expresses the need for the security to cordon off the area to allow the search and rescue process to take action.
The training was conducted in Soroti, Ngora and Pallisa district respectively. Speaking to the media shortly after the training, Odong Mike Lassio the Ngora district chairperson requested Civil aviation authority to revamp the airfield that belonged Ngora Fredcap Hospital in Ngora district to create opportunities for those that may need to train as pilots like the case with Soroti flying school.