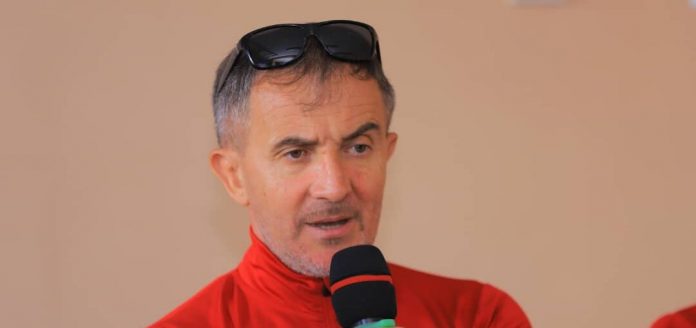 Uganda Cranes will take on Niger in the 2nd game of the 2023 TotalEnergies Africa Cup of Nations Qualifiers on Wednesday at St. Mary's Stadium, Kitende.
The match set to kick off at 4pm (EAT) will see head coach of Uganda Cranes Milutin Sredojevic looking to set his charges to collect maximum points. Micho and hos Captain Emma Okwi addressed the media during the pre-match press conference at FUFA House on Tuesday morning. The Press Conference was moderated by the Team Media Officer Julius Mutebi.
"I have absolute trust, confidence and belief in our players. We have gone to the deepest attention to detail in regards to theoretical awareness, what their sources of vulnerability are, how we can score the opponent and close the points of danger.The mental strength and spirituality of the players after the days in camp are perfect. We are fully aware of what it takes in this group and since this match is at home, we are in a situation where we want to give it all. We want to be mentally strong using the never give up approach.
We want to get the backup of our supporters- who are player number twelve, something which played well for our opponents last weekend.
We want to play a different ball game where player number twelve will play for us and we want to give them reason. We shall continue with the never give up attitude, and with good performance we shall get the result we want, "said  the Uganda Cranes Head coach Milutin Sredojevic
"I need to say that we are having a challenge to recover from the long trip. However, we are fully aware that this match means a lot and there is a lot at stake. With everything, we shall recover well and give it all. Technically and tactically we are playing against a team with French football school and when you have that in mind, we need to have adequate approach that will practically push us to the direction of keeping our identity and showing that Kitende is a fortress where nobody can come and resist all our plans. Believing in players, believing in all your support, believing that we will get the performance and result from tomorrow's game," Milutin added
Captain Emmanuel Okwi said, "We look forward to the game against Niger on Wednesday. In fotball you never think about the past. You only think of what is before you and that is in the future. So we are looking forward to tomorrow to make sure we rectify our mistakes and get the best possible result which is a win."