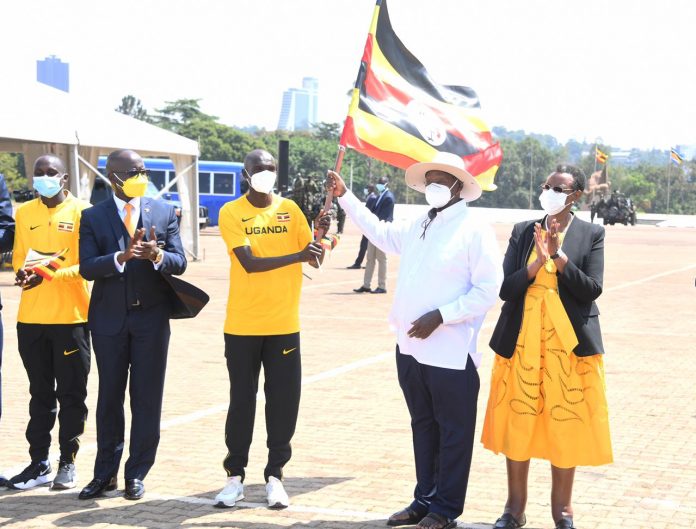 President Yoweri Kaguta Museveni together with the First Lady and Minister of Education and Sports, Hon. Janet Kataha Museveni flagged off the Ugandan Teams set to participate in the upcoming Common Wealth games in Birmingham City, United Kingdom and the World Athletics Championships in USA.
The colorful ceremony took place today at Kololo Independence grounds in Kampala.
Uganda will be represented in 13 sporting disciplines including athletics, netball, rugby, table tennis, and badminton, weightlifting, swimming among other disciplines.
Uganda is among the countries competing at the 2022 Commonwealth Games in Birmingham, England between 28 July and 8 August 2022. It will be Uganda's sixteenth appearance at the Games.
Addressing the sports men and women at the ceremony, President Yoweri Kaguta Museveni explained the advantages of engaging in sports, apart from being good for fitness also builds character, promotes entertainment, builds team work and gives the country publicity among others.
"Whenever I get a chance to speak about sports I speak about its advantages. These include being good for fitness, building character and part of the character is not giving up. The discipline of sports is that you should not give up," President Museveni said.
The President appealed to the athletes of Uganda to work as a team and encouraged them to be disciplined. He said thats the best way they will give publicity to themselves and the country at large.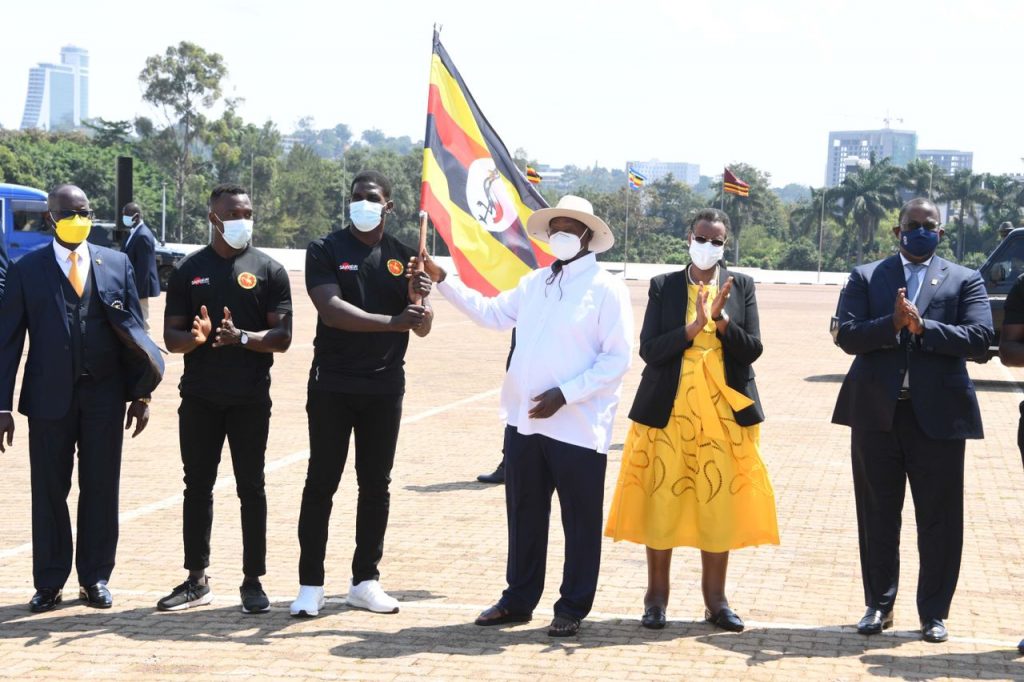 "You should emphasize sports for teamwork. Many people fail in the world because they don't want to work as a team. As sports people you can't work alone, you need team work. If you have this talent of sports, you should not miss-use it. It's a good talent," President Museveni said.
The President warned the sports men and women against hazards in sports like alcoholism, prostitution among others because they can damage one's organs and hence failure to perform.
"Sports needs all your organs to be working well. i.e. the heart, lungs, liver, intestines, etc. All these are at risks with alcohol. Having known the value of sports for you and the country, you now need discipline to guard that talent," Mr. Museveni said.
Mr. Museveni added, "The point I want to make is that once you have the talent, don't fear! There is nothing you can't achieve if you have a good training and have discipline. Once you have the talent you can achieve a lot with good training and discipline."
The President commended the Minister of Education and Sports, Hon. Janet Museveni and the entire Ministry of Sports for exhibiting team work in the Ministry that has seen strides being made.
"I want to thank Maama and her team for the team work spirit in that ministry. Because of her team spirit, you can now see we are moving. It is now my pleasure to send off all teams, I wish you God's blessing". President Museveni said while flagging of the team.
The First Lady and Minister of Education and Sports Hon. Janet Kataha Museveni was grateful to God for yet another moment where the President is blessing Team Uganda that is going to participate in the Commonwealth games and the World Championships.
"Today brings me and the entire fraternity of the Ministry of Education and Sports another moment of happiness and a new hope in flagging off our National Sports Teams, as they prepare to represent our homeland in various sports events on the world stage. I thank God who has enabled us as a country and our young people to come this far in participating in international sports events. I can only say, "Ebenezer!" Hon. Janet Museveni said.
The First Lady said that the successes registered by the Sports sub-sector of Uganda in the recent past is not only attributed to the God-given talented population we have as a country, but the stability in the nation generally.
She said as such, public financing for Physical Education and Sports Sub-Sector increased by 304 percent (that is UGX 20.77 billion), from Uganda Shillings 6.83 billion in FY2015/2016 to Uganda Shillings 27.6 billion in FY2020/2021".
This investment over that period, The Firs Lady said has brought us more than 180 various medals of which at least 75 were Gold medals in various teams and individual Sports.
"It is worth noting that at least 60 of the 180 medals won were by either female team or individual athletes. It is, therefore, a great honor for us at the Ministry of Education and Sports, to flag off yet another set of Sports Ambassadors for our beloved nation," Maama Janet Museveni said.
Minister Janet Museveni informed Team Uganda to always remember that while they are abroad, they are holding the Uganda flag wherever they go. She urged them to ensure that they do nothing that brings shame to the flag.
"Therefore, please remember to keep our flag flying high. Show the pride in being Ugandan. Remember everybody is watching you, praying, and wishing you the very best. There can never be any better country for you other than your God-given homeland," she said.
She congratulated the teams for making it to representing Uganda at the Birmingham 2022 Commonwealth Games and the World Athletics Championship!
The State Minister in charge of Sports, Hon. Hamson Obua thanked the President and First lady for gracing the ceremony in person.
"Today the sports subsector is humbled to host you here in person. We present to you team Uganda for the World athletics 2022 and Commonwealth games". Hon. Obua said.
Minister Obua said that with the strategies and ideology of President Museveni and government, what used to be a dream in Uganda is now a reality.
"Our Moto is for God and my country, Maama as our leader is our lead prayer warrior and intercessor who presents our prayers to God that is why we have management to excel in various discipline," Obua said.
Hon. Hamson Obua revealed that the Sports budget was enhanced and commended the efforts of President Museveni, First Lady, Cabinet and parliament that enabled this to happen.
"To our teams, your moment is now! A moment of reflection, truth and to rise and shine, a moment to represent your country," Minister Obua said.
The Chairperson National Council of Sports, Mr. Ambrose Tashobya said that international sports give an international platform for the participants and their respective countries to shine, so the sports men and women should use this chance well.
"Allow me to express our gratitude and give privilege to team Uganda. International sports give international platforms to the participants and the nations, please go and excel," he said.
Uganda will participate in the Birmingham 2022 Commonwealth Games scheduled for 28th July to 8th August 2022 in the United Kingdom, and the World Athletics Championship scheduled for 15th to 25th July 2022 in Eugene, Oregon in the United States of America.