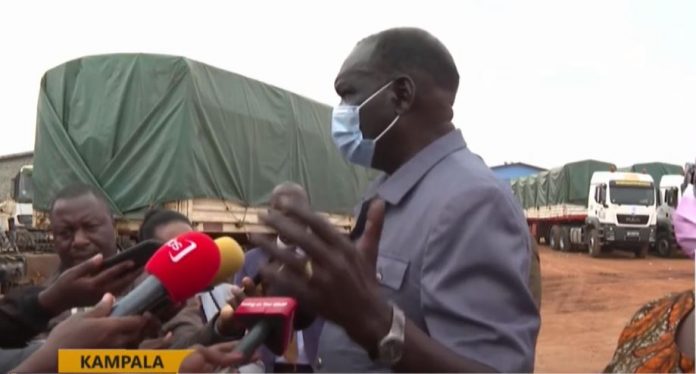 The office of the prime minister dispatched 552 tons of maize flour and 223 tons of BEANS and other supplements to the affected and malnourished children in Karamoja due to hunger.
"We have special diet for them which will be served to them at the health centers. We are still in discussion with World Food Programe whether we can also set up a feeding center, where those who are really weak and cannot carry posho and beans to their homes can feed themselves" the Minister for Relief, Hilary Onek said.
The American government has donated 21M US dollars, Belgium government 4M US dollars and Japan 1M US dollars towards the cause.
Government has committed 135 billion to support over 600,000 people in Karamoja with relief food for a period of 3 months.
"In terms of the willingness of the leadership and of Karamoja and the leadership of the nation there is a willingness. But we must acknowledge that there are gaps, financial gaps we have as a country.There are many problems we are solving so when such a thing happens , its not time to blame anybody but its time to join efforts to take action and rescue our fellow citizens" says Faith Nakuti, Woman MP Napak District
Government has developed a disaster management plan that will see the installation of silos to respond to disasters and as well boost food production in Karamoja.
Onek said they are also using the security agencies particularly the army and police to guarantee peace to this karamongs when they are in their gardens
"UPDF is our force that places a positive role and goes to the rescue of Ugandans when they face challenges like this, so it is perfectly in order and doing what they are mandated to do" said Julius Mucunguzi OPM spokesperson
Ministries of Relief, Agriculture and water officials are to meet to chant way forward on how to revive the 1969 project for pumping water for irrigation to Karamoja.
"Pumping water from lake buena, buena is one of the small lakes that contributes to lake kyoga. There is a project designed to pump water to top of napak hill an then from their it will gravitate throughout Karamoja up to kaabong because that's the highest spot" Hilary Onek said.
For the past three days, government has supplied 1,590 and 700 tons of maize and beans respectively to the districts of Kotido Karenga, Moroto, Kaabong, Nabilatuk and Napak.