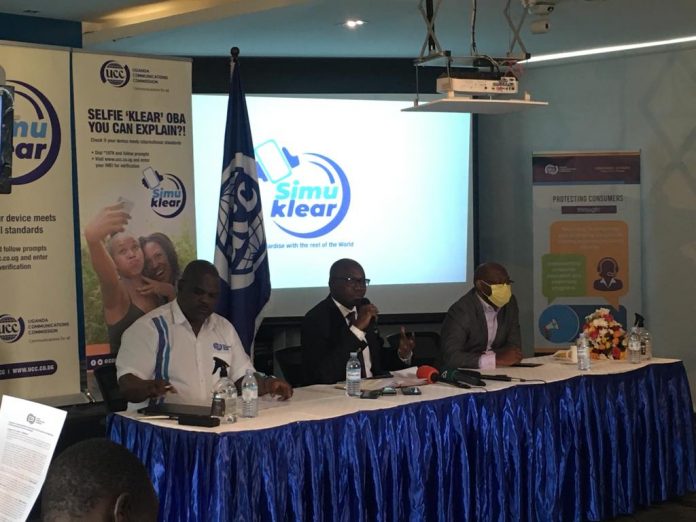 Uganda Communications communication has launched a campaign dubbed SIMU KLEAR aiming at discouraging the use of illegitimate mobile communication devices.
Every legitimate mobile phone has a unique identifier that registers it to a carrier network. This number is called the international mobile equipment identity (IMEI) number. It can be used to verify the legitimacy of the mobile phone for one to check whether their mobile phone is legitimate or not.
"But the ones that have been switched on network are our moving target and they range to about six million phones that are within the network and in the network that have been identified as illegitimate and having issues with the parameters we talked about, the email not being in confirmative with that registered in the database" said the Manager Corporate communication, Fred Otunu.
Because of failure to totally eliminate counterfeit in Uganda, UCC has embarked on the 'SIMU KLEAR' campaign through which they think shall help them disconnect all phones that are illegitimate.
"SIMU KLEAR is a campaign that will empower consumers to know whether their device is legitimate or not." Otunu described SIMI KLEAR.
Otunu says the campaign is going through a phased manner to avoid a shock implementation to give room for change.
"We decided to do this in a phased manner to allow people to be able to change and move in one mode of behavior to another. Even the traders to stop importing phones that are not legitimate." Otunu said.
UCC has called upon device consumers to know their devices through the availed provisions.
To check legitimate phone devices dial *197*4# and the email will automatically display on your phone screen
On every 30 million phones that are registered on the network, 6 million are fake which compromise standards in favor of returns, impacting value proposition and safety.