President Yoweri Museveni has hailed the Uganda Girl Guides Association (UGGA) for causing transformation of lives and giving hope to millions through their voluntary activities. The head of state says the Girl Guides Movement has had an impact on humanity, providing great opportunities for girls and young women in education, empowerment and leadership.
This was contained in a speech delivered on his behalf by the Prime Minister Robinah Nabbanja at celebrations to mark 100 years jamboree of Uganda Girl Guides Association on Friday held at Kololo Ceremonial Ground Under the theme:100 years of Empowering Lives.
The President said the government of Uganda through the Ministry of Gender and Social Development, Ministry of Local Government and that of Education and Sports has been supporting the girl guides movement through their initiatives especially community service and this will continue to further their work of transforming society.
"As you celebrate 100 years of guiding, I congratulate all girl guides to continue with the good work of changing lives. Government appreciates your contribution to the social economic transformation of our society," H.E Museveni said, adding that their initiatives on peace, environment, children's rights, HIV & Aids, poverty, hunger among others have made the young women active participants in efforts to make the world a better place for humanity.
He thanked in a special way the Girl Guides Association for keeping the dream of Baden-Powell alive of being contented with what is available and giving out happiness to other people as the best and real way to get happiness themselves. The President noted that millions of Ugandans have benefited from girl guiding training and have ended up being responsible and result oriented citizens.
"It is easy to identify a girl guide in a crowd because they always stand out regardless of age. This has made the association unique over generations. You're producing enlightened, tolerant and disciplined leaders for tomorrow" Gen H.E Museveni said.
He said the National Resistance Movement government placed emancipation of women at the forefront of its agenda and its benefits of the supportive policies, laws are evident today. The President called upon African countries with a high population of youth to inspire young people into creating a sustainable future by transforming the world and making it a better place than before.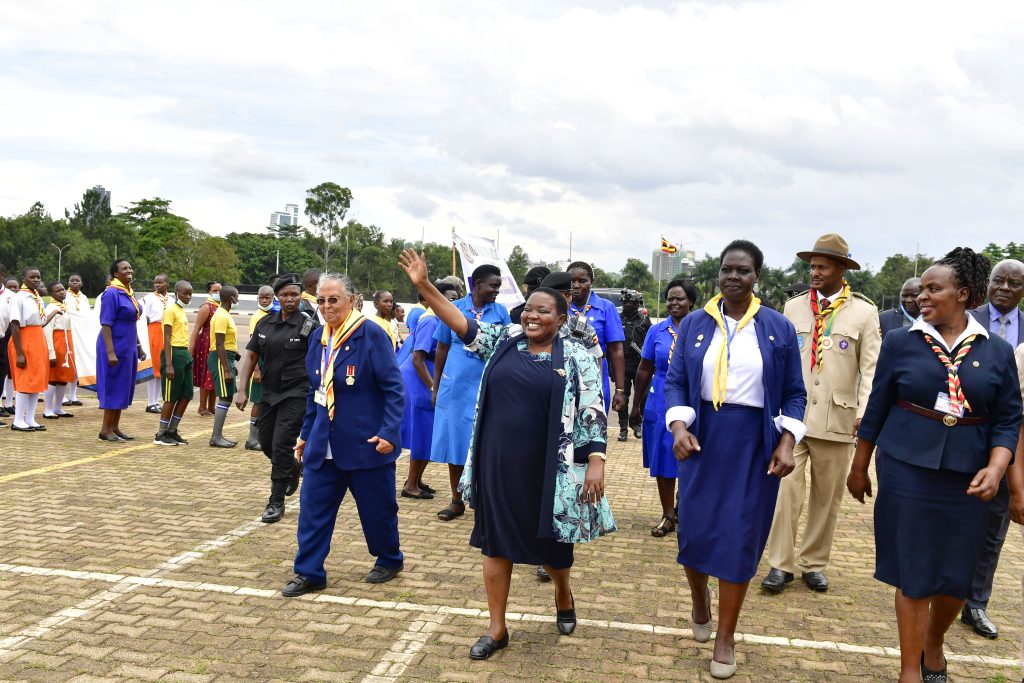 "I do pledge my total commitment and that of my government to ensure that the Girl Guides Association continues to thrive, blossom and nature our young people," he stressed.
The Minister of Education and Sports Janet Museveni who is also the patron Girl Guides Association expressed her ministry's gratitude to the work of Girl Guides in schools and pledged more support towards their cause of raising selfless future leaders.
In her remarks delivered on her behalf by the Assistant Commissioner Private Schools Policy Regulations at the Ministry of Education Mr. Mulindwa Ismail, the First Lady noted that the Ministry of Education will ensure that every school has a Girl Guide Club.
"We are going to engage the leadership of the Girl Guides to ensure that every school has this club and of course with members. It should no longer be an option," Mr. Mulindwa said.
According to the Chief commissioner Uganda Girl Guides Association Suzan Namarome, the Uganda Girl Guides Association is committed to supporting the country's efforts of building a better Uganda through empowering girls and young women to become confident and independent leaders.
The day according to Dr. Unice Kateshumbwa, the chairperson of the organizing committee, marks the climax of Uganda Girl Guides Association centenary celebrations after a year-long series of activities launched in March last year by the First Lady Mama Janet Museveni.
At the same ceremony, the First Lady Janet Museveni, Mama Miria Obote among others were recognized for their contribution, stewardship, wise counsel and the unwavering support to the Girl Guide Movement, improving the status and supporting the cause of the girl child in Uganda.
The ceremony was also attended and addressed by the Council Chairperson of Uganda Girl Guides Association Santa Akulu Oketa, the international commissioner, Uganda girl guides Association IrynNabifo. Special guests and representatives from Kenya, Tanzania, Rwanda and Bangladesh also graced the event.
Uganda Girl Guides Association UGGA is a voluntary organization, affiliated to the World Association of Girl Guides and Girl Scouts (WAGGGS) the largest single women organization in the world, targeting beneficiaries – girls and young women between the age of 3 and 35.
It is located in over 113 districts of Uganda with a total membership of 436,086 members from the ages of 3 onwards.