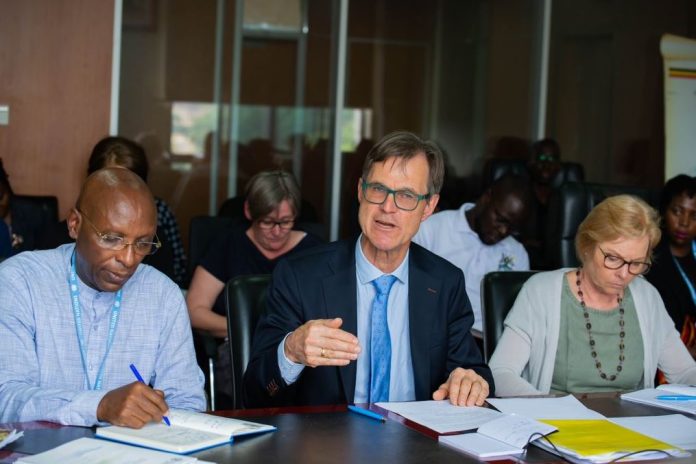 By David Mwanje
The FVC Resource Partners' Field Trip, co-organized by the FAO Representation in Uganda and the Secretariat of the FVC, allowed resource partners to have a first-hand experience of how FVC-funded interventions have been instrumental in harnessing opportunities and addressing the most pressing challenges in the country. Ten officials of the FVC resource partners participated in the field trip, representing the governments of Belgium, Flanders, Netherlands, Norway, and Sweden.
A systemic response to development challenges
"The FVC is a unique, pooled, voluntary funding instrument established in 2010, which allows resource partners to support FAO's response to development challenges in a timely and cost-effective manner, in support of the Sustainable Development Goals," explained Festus Akinnifesi, Head of Multi-Partner Initiatives and Flexible Funds in the FAO Resource Mobilization and Private Sector Partnerships Division (PSR).
Since its establishment, the FVC has supported over 65 projects in more than 80 countries, transforming hundreds of thousands of lives. In Uganda, FAO is implementing 14 out of the total 53 FVC-funded projects in the 2018-21 funding cycle. The impact can be seen at all levels – from policymaking to rural households.
The FVC Field Trip included field visits to beneficiaries in rural areas and strategic meetings with key stakeholders, such as Government officials and local implementing partners.
"Uganda is being looked upon as a country that other countries can learn from," said Siobhan Kelly, FAO Agribusiness Economist, during the meeting with the Chair of the National Food Systems Coordination Committee (NFSCC). The NFSCC, hosted by the Office of the Prime Minister, embodies Uganda's coordinated approach towards the realization of the commitments made during the National Food Systems Dialogues. Currently, FAO is working with the Government to translate the national post-summit agenda into action.
The meetings with representatives from the Ministry of Foreign Affairs, the Ministry of Agriculture, Animal Industries and Fisheries, incubators, diaspora networks, and youth organizations provided valuable opportunities to discuss FAO's work to boost decent employment in the Ugandan agrifood system, from different angles.
The policy support work conducted by FAO in this domain culminated in the adoption of the National Strategy for Youth Employment in Agriculture, in 2017. Furthermore, the FAO-MAAIF Youth Inspiring Youth in Agriculture Initiative (YIYA) has registered commendable results, identifying and supporting young agripreneurs that are role models to their peers. This allows them to scale their enterprises and generate jobs for other youth.
At the same time, FAO promotes quality education for vulnerable children , ensuring that they can acquire age-appropriate farming skills that contribute to their food security and help them access future decent employment opportunities. During the field trip, the FAO team presented the five-month pilot activities, implemented together with the non-governmental organization Nascent RDO, to address child labour in agriculture in Karamoja. The pilot interventions focused on the promotion of alternative income-generating activities to reduce the vulnerability of rural families, and the creation of self-managed village saving and loan associations to access small loans in case of emergency. The project also placed a strong emphasis on school attendance, through raising awareness amongst stakeholders on the importance of education for both boys and girls, and working with school reintegration programmes of children in or at risk of child labour.  
As part of its effort to promote decent rural employment, through FVC funds, FAO also supported the establishment of the Uganda Diaspora Agribusiness Network (UDAN), which facilitates the transfer of knowledge and investments from diaspora members to Ugandan youth-led agribusinesses, as explained by Giulia Castro, FAO Migration and Rural Employment Specialist. The initiative is also helping young agripreneurs access foreign markets.
Listening to rural communities
Uganda's small-scale fisheries sector, centred on the large lakes across the country, is an important source of employment for local communities. While fishing remains a male-dominated activity, members of the Kiyindi Women Group in Buikwe explained how the fishing inputs, drying racks, kilns, and the training in post-harvest handling provided by FAO have empowered them, boosting their economic activities and enhancing their food and income security.
In Mubende, local farmers engaged in FAO's Farmer Field Schools (FFS) have benefited from training on group dynamics, agribusiness, innovative agricultural practices, village banking opportunities and gender equality and women's economic empowerment.
As a result, members of the Ssaka Women group currently grow vegetables, and rear poultry, and have been raising and saving money for three years with plans for business expansion. Members of the Balitulabilako FFS group in Lugala apply soil and water conservation practices and prioritize coffee production. They are working to increase production, acquire value-addition technologies and market better.
"Scaling up is key," said Festus Akinnifesi. "In Uganda, we have seen a great model of partnership with stakeholders at all levels, we have heard life-changing testimonies from the beneficiaries, and we are learning about successful practices that can be replicated elsewhere." According to Priya Gujadhur, Deputy FAO Representative in Uganda, "The FVC funding instrument is key to bringing innovation, leveraging capacity, and creating catalytic effects. We need to connect it to bilateral investments to scale up impact."
The feedback provided by FVC resource partners during the field trip is crucial to charting the way forward and identifying key priority areas, including further integration of interventions at the UN level, in the context of the agrifood system transformations strategy.
FAO appreciates the generosity of all eleven resource partners that made flexible voluntary contributions in the 2018-21 funding cycle: Australia, Belgium, Flanders, France, Ireland, Italy, Netherlands, New Zealand, Norway, Sweden, and Switzerland.