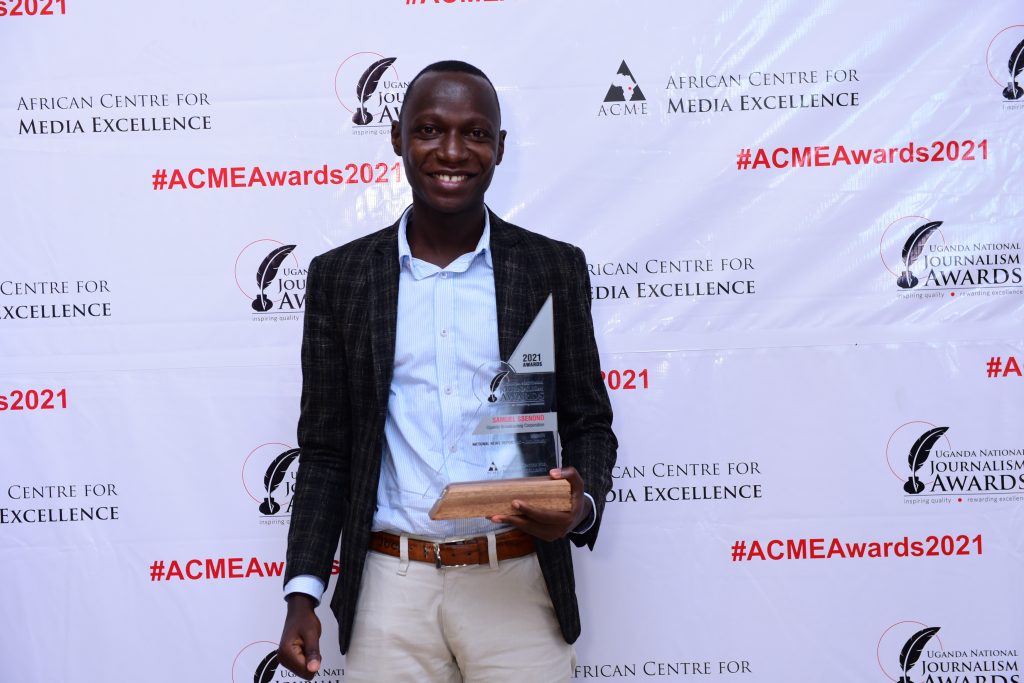 African Centre for Media Excellence (ACME) announced the winners 2021 Uganda National Journalism Awards at a colourful cocktail party held at Mestil Hotel in Kampala.
The awards, organised by ACME since 2014, celebrate and promote exceptional, in-depth and enterprising journalism that informs public debate and holds the powerful to account. They are open to all journalists working for media outlets in Uganda or regional media houses with wide circulation and significant audience reach in the country.
A panel of 13 expert judges from academia, public communications and the media assessed each story on the basis of reporting accuracy, writing, reporting rigour, analysis, relevance and enterprise.
UBC TV Journalist Samuel Ssenono took home the National News Reporting Award which is given granted to stories that illuminate and explain issues of national concern through powerful explanation, sourcing, analysis and storytelling.
Ssenono was credited for going back in time to explain how Covid-19 spread through Uganda, who was most affected and what government did – or did not do – to contain the outbreak of the pandemic. The winning story is titled, 'Detecting Uganda's first Covid-19 case'.
The 1st runner-up is Culton Scovia Nakamya of BBS Terefayina for the story, 'Porous borders: Can Uganda survive the Covid-19 pandemic'.
Tied in third place are Benjamin Jumbe of KFM for his series of reports on defilement, and Daniel Lutaaya and Godfrey Badebye of NBS Television for the story, 'The hands that fed us'.
In explanatory reporting, Denis sigoa's story, 'Mwelo Rock land acquisition saga'.emerged first runner up.
UBC'S Henry Okurut was second runner-up in the environment reporting category for the story 'Homeless creatures: UWA stuck with 1,000 wild birds at Parliament'.
In health reporting, two entries tied for the 2nd runner-up award. 'Save births amidst Covid-19: Celebrating midwives' by Benard Yiga of Uganda Broadcasting Corporation; and 'Postpartum hemorrhage, leading cause of maternal mortality' by David Mafabi of The PML Daily.