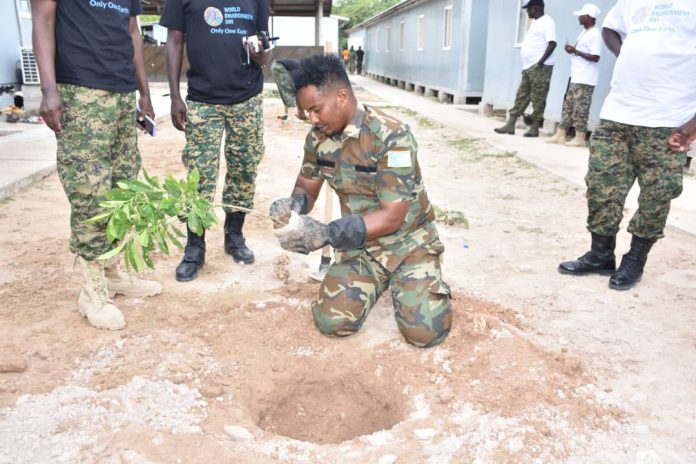 Uganda Peoples' Defence Forces troops serving under the African Union Transition Mission in Somalia joined the rest of the world to mark the World Environment Day.
The day was marked with the planting of over 200 trees in the Mogadishu, Base Camp, where UPDF is headquartered.
While presiding over the activities, the Deputy Commander Sector One Col David Opeero urged troops to draw lessons from this year's theme: "Only One Earth" that carried a lot of significance including, but not limited to the fact that this is the only planet where mankind can live comfortably, thus calls for its care since we don't have any other alternative planet.
"On account of caring and giving back to Mother Nature, we are planting 200 trees as a symbol of fighting environmental degradation," Col Opeero said in his remarks before flagging off the tree planting exercise.
He called upon everyone to take responsibility of the environment and further implored all Troop Contributing Countries in Somalia, and Somali nationals to have discipline on garbage and waste disposal by avoiding throwing used up items like water bottles and polythene bags, among others.
He cautioned everybody to carry the awareness message on the need to protect the environment.
"We have to sensitize the public and the communities we live in about the dangers of environmental degradation by projecting ourselves as responsible citizens on the tasks of environmental protection," Col Opeero said.
The Contingent Administrative Officer (CAO) Sector One Col Emmanuel Odongo called upon stakeholders involved in the social economic transformation of Somalia to continue with their agenda to avoid the degradation of the past achievements.