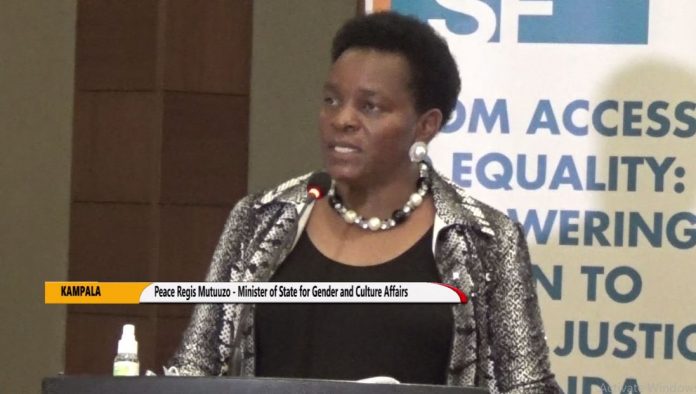 The minister of state for gender and culture Peace Regis Mutuuzo has urged girls and women to protest against tendencies of injustices and discrimination in their respective communities
Minister Mutuuzo said there's need to empower females to avoid compromise in situations to gender based violence.
The minister was launching a baseline study dubbed From Access to equality project that aims at empowering women access justice in Uganda at Sheraton hotel in Kampala.
With courtesy support from the Embassy of the kingdom of Netherlands in Kampala and the ministry of gender, labor and social development, civil society organizations under Uganda women network convened a national symposium at Kampala Sheraton hotel on access to justice for women in Uganda.
The national convention was concurrently held with the launching of a baseline study titled from access to equality Project by the minister of state for gender and Culture, Peace Regis Mutuuzo who said cultural norms should not be used to trigger gender based violence to girls and women.
Ambassador Karin Boven of the Embassy of the kingdom of Netherlands in Kampala applauds government for various interventions initiated against gender-based violence at all levels.
The study shows that 95percent of all disputes in Uganda are handled outside court and this has escalated cases of gender based violence. Brenda Ataro is the project coordinator Ugandan women's network.
Land rights and gender based domestic violence caused by financial setbacks are common and affecting 36 percent of women in Uganda.