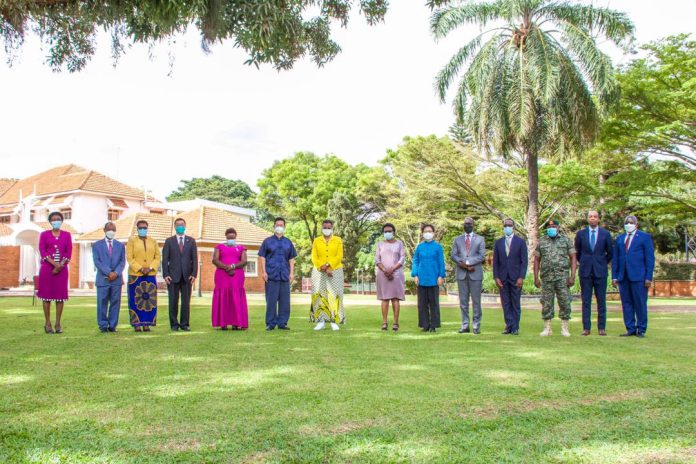 The First Lady and Minister of Education and Sports Mrs. Janet Museveni has welcomed a donation of 5 million doses of Sinovac Vaccines that China has offered to Uganda as continued support to the country in the fight against Covid-19.
The announcement of the donation was made by the Ambassador of the People's Republic of China to Uganda; H.E Zhang Lizhong, during a meeting held at State House Nakasero on Wednesday. The meeting was also attended by the Minister of Health Dr. Jane Ruth Aceng, State Minister for Primary Education Dr. Joyce Moriku Kaducu and State Minister for Sports Denis Hamson Obua, plus technical officers from both the Education and Health Ministries.
The donation, which is an addition to the previous batches of 1.6 million doses of Sinovac vaccines delivered to the country early last year, will be delivered quarterly in this year 2022. The first doses were used to vaccinate teachers ahead of the schools re-opening and the target groups of people 18 and above years of age.
Mrs. Janet Museveni expressed Government of Uganda's readiness to receive the vaccines and thanked the Government and people of China for the offer. She also thanked the First Lady of China Professor Peng Liyuan for the medical supplies she donated earlier before to Uganda through the Organization of the African First Ladies for Development (OAFLAD) to support women and children in the fight against COVID 19 in Africa.
Mrs. Museveni and the Chinese Ambassador also discussed further cooperation in various fields in the Education sector. She requested the Ambassador to follow up on her request for cooperation in Skills development, which she presented to China's Minister of Education in 2018 on the sidelines of the Meeting of Forum on China-Africa Cooperation (FOCAC).
"I had talked to him about skills development in the country and the need for trainers for our technical and vocational institutes. So, we need to see what we can do together", she said, adding that "my request is about trainers who can come to Uganda and train Ugandans in TVET institutions whenever it is possible".
Ambassador Zhang Lizhong said that during the last FOCAC meeting held in Dakar Senegal in 2021, China's President Xi Jinping announced nine programmes of focus to strengthen the China-Africa Cooperation. These include: delivery of vaccines and other health projects, human resource capacity building including vocational training, poverty reduction and agricultural development, trade promotion, investment, digital innovation, environmental protection, peace and security and cultural and people to people exchange to promote tourism.
He added that more focus is now on livelihood assistance to developing countries so that many local communities can benefit from the bilateral cooperation.
He gave an update on progress of China's cooperation in the education sector in Uganda, including their contribution of food assistance worth 7 million US Dollars through the World Food Programme to schools and families in Karamoja since 2018.
Mrs. Museveni thanked China for their food support to Karamoja, saying it helps and encourages children to go to school knowing that they would have a midday meal at school.
China's Ambassador also informed the First Lady that Universities in China have again opened up their doors for scholarships for international University student including Uganda, which programme had been disrupted by the COVID-19 pandemic.
The Minister of Health Jane Ruth Aceng said that Uganda will be pleased to receive the donation of 5 million doses of Sinovac Vaccine from the Government of China. "These vaccines will go ahead in scaling up the vaccination coverage in the country as we enter the phase of vaccinating those not yet covered, second doses for those due and booster doses for our teachers and perhaps considering vaccination of children above the age of 5 to 17 years', she said.
She thanked China for having been the first country to donate COVID-19 vaccines to Uganda after India, when most of the western countries were keeping their vaccines for their own people.
State Minister for Sports Denis Obua requested the Chinese Ambassador to consider including construction of Buhinga Sports Stadium in Fort Portal and Akibua Olympic Stadium in Lira under the FOCAC cycle for 2021-2023. These are some of the projects that had been prioritized during the FOCAC meeting in Beijing in 2018, but were dropped owing to the COVID-19 pandemic.
China's Ambassador noted the strong desire of Uganda to have the 2 stadia constructed and promised to keep in consultation to see how this can be achieved.
The Ambassador was together with Economic Counselor Jiang Jiqing and Wang Chenxu, the First Secretary at the Embassy of the People's Republic of China in Uganda.