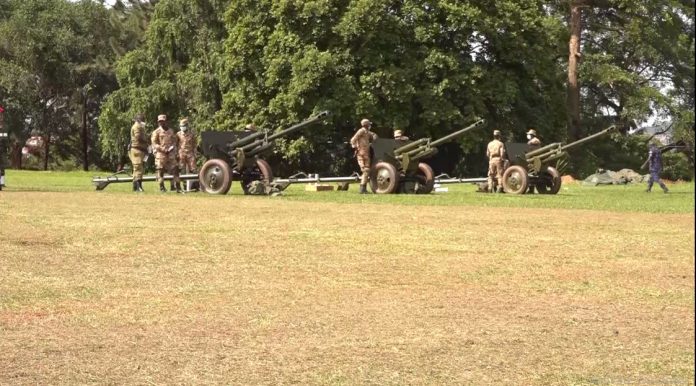 President Yoweri Museveni has challenged leaders to desist from balkanization of the African people to guarantee their security and total liberation.
Museveni reminds African freedom fighters of safety and security of the black race remaining compromised with continuous glorification of small and weak African states.
This was contained in his Heroes' day message as delivered by Prime Minister Robinah Nabbanja at Kololo Ceremonial Grounds.
It was a moment of honor for the fallen National heroes as Prime Minister Robinah Nabbanja arrived to an executive reception at Kololo Ceremonial Grounds.
She was here to represent the Head of State at National Heroes' Day Celebrations.
Dressed to kill, the fully mounted UPDF Parade was ready for the day's performances.
This would be followed by a three-gun salute in their honor.
As Nabbanja laid wreaths on the fallen heroes, the message she delivered on behalf of the President was clear.
Modern farming for both subsistence and commercial purposes was prominent for improved income and job creation.
This will however require pan africanism coupled with patriotism for creation of market for processed products in the country.
Earlier, leadership of the veteran association made several appeals to the President including continued and effective leadership.
Present at the occasion were Ministers and Members of Parliament who described the day as worth celebrating.
As for the children of veterans, it was all appreciation to the country's leadership for good governance.
The day was celebrated under the theme: Commemorating our Heroes and Heroines: An Opportunity to consolidate our Efforts in Securing Uganda.