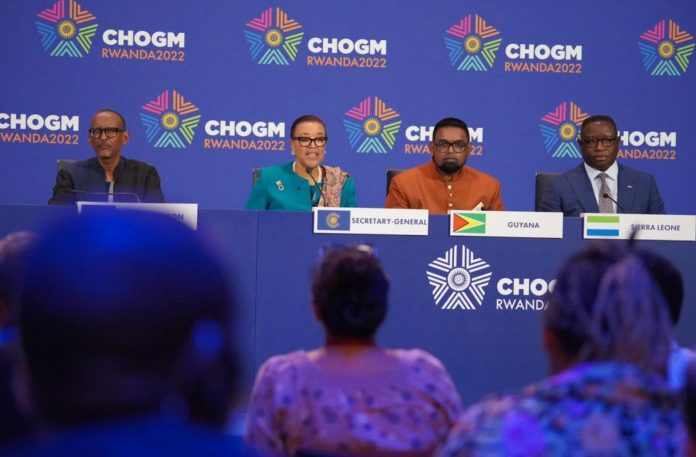 The 26th Commonwealth Heads of Government Meeting has been concluded in Rwanda's Capital Kigali with new members Gabon and Togo joining as the the 55th and 56th members respectively.  
During the meeting, Heads of state underscored the importance of connecting, innovating, and transforming in order to facilitate a full recovery from the COVID-19 pandemic, achieve the 2030 Agenda, and respond to conflicts and crises in ways that increase resilience and progress in delivering a common future, underpinned by sustainability, peace and prosperity, to improve the lives of all the people of the Commonwealth.
New members join the Commonwealth family
One of the major announcements out of today's meeting was the admission of Gabon and Togo as the Commonwealth's 55th and 56th members, respectively. Neither country has a historic association with the Commonwealth, with both gaining independence from France in the 1960s.
Welcoming the announcement, the Commonwealth Secretary-General, The Rt Hon Patricia Scotland QC, said: "I am thrilled to see these vibrant countries join the Commonwealth family and dedicate themselves to the values and aspirations of our Charter."
Also today, Commonwealth leaders officially adopted the Living Lands Charter: A Commonwealth Call to action on Living Lands (CALL), which commits all member countries to safeguard global land resources while taking coordinated action on climate change, biodiversity loss and sustainable land management. The Declaration on Sustainable Urbanisation and the Kigali Declaration on Child Care and Protection Reform were also adopted.
Elsewhere, the Commonwealth Blue Charter Project Incubator was launched today on the margins of CHOGM. This new initiative will support Commonwealth ocean states in cultivating and scaling-up projects that protect the marine environment while also tackling climate change.
And the Governments of Kenya and Eswatini were named as the new Champion Countries to lead Commonwealth action on geothermal energy and energy literacy, as part of the Commonwealth Sustainable Energy Transition (CSET) Agenda. In their new roles, they will take the lead in forming voluntary coalitions made up of member countries willing to work together to develop shared strategies and align action on each issue.
In other news, members of the newly installed Commonwealth Youth Council (CYC) met face-to-face with heads of government on the margins of CHOGM.
Next stop, Samoa!
Samoa will be the host of the next Commonwealth Heads of Government Meeting (CHOGM) in 2024.