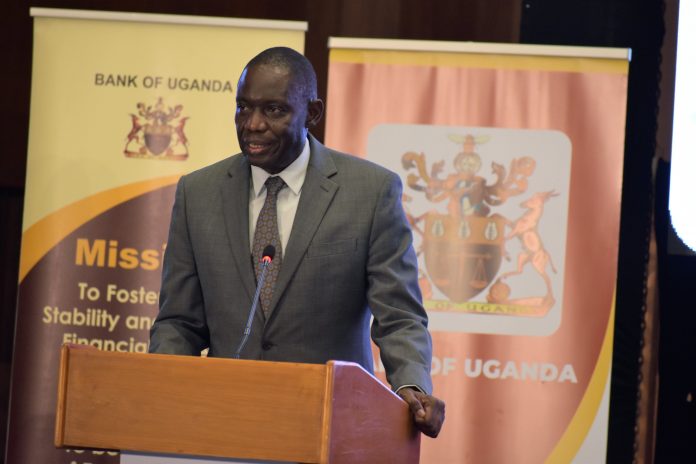 Bank of Uganda has increased the central bank rate (CBR) by another percentage point to 8.5% in a bid to contain the skyrocketing inflation.
This decision was taken at an extra- ordinary Monetary Policy Committee meeting held on Monday July 4th 2022.
In a statement, Dr Michael Atingi-Ego, the deputy Governor said that Inflation continues to rise in the country, largely influenced by external cost pressures stemming from higher global food and energy prices, persisting global production and distribution challenges, as well as rising domestic food crop prices due to dry weather across the country,
He also noted that the annual headline and core inflation rose to 6.8 percent and 5.5 % in June 2022 from 6.3 % and 5.1 % in May 2022, respectively.
"Inflation is forecast to pick in the second quarter of 2023 before gradually declining to stabilize around the mid-term target of 5% by 2024.And this is of course promised on the fact that in 2022the inflation was slightly higher than the 7.2% and 6.1% that was projected in June 2022." Atingi-Ego stated
According to the statement, the general, economic activity is forecast to stand satisfactory as the shocks to commodity prices, production and distribution disruptions, and global inflation continue to dim the prospects for domestic economic growth.
"Economic growth is still forecast in the range of 4.5% -5.0 % in 2022 and increasing slightly to 5.0 %-5.5 % in 2023, in part held up by public investments. Feeble exterior demand, high domestic inflation and end product tighter domestic financial conditions will constrain exports, consumption, and investment."
The central bank however said that households' and businesses' predictions about economic developments have grown more unenthusiastic, and the global economic outlook is highly unknown.