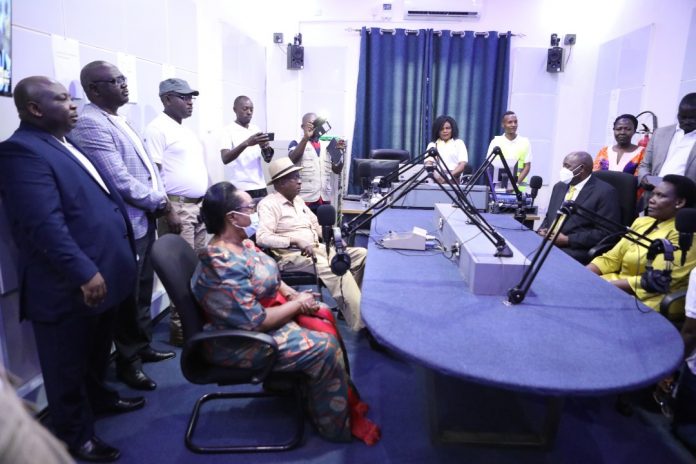 The Minister for Information and National Guidance Hon.Dr Chris Baryomunsi unveiled and launched the brand-new state-of-the-art broadcast studios of UBC West "Empikahoona" Radio on 23rd July 2022 in Mbarara City which is under the Uganda Broadcasting Corporation, the National Public Broadcaster for the republic of Uganda.
The Minister stated that "UBC has remained the same in terms of maintaining professionalism and relaying government's message with authenticity and clarity". He also cautioned Private Media Houses to have responsible reporting that Guides, Informs and Entertains the public.
UBC west is rated as one of the most dominant radio stations in terms of in listenership in Western Uganda.
The station covers areas of Mbarara on 97.4, Kabale 93.7, Kisoro 97.7, Fort Portal 98.8, and Hoima 99.1, Masindi 105.0 and in Kampala on 105.7 FM.
The station was rebranded in 2012 from UBC Blue Channel to UBC West "Empikahoona" Broadcasting in the Runyakitara dialects and English and it was located at the main headquarters in Kampala. However due to the need to be more effective, the station was relocated to Mbarara City in 2021 so that services are closer to the communities.
UBC West Radio's main aim is to fulfil the diverse needs of its listeners by bringing news, series, dramas, awareness campaigns and shows that Inform, Educate and Guide the communities in Western Uganda.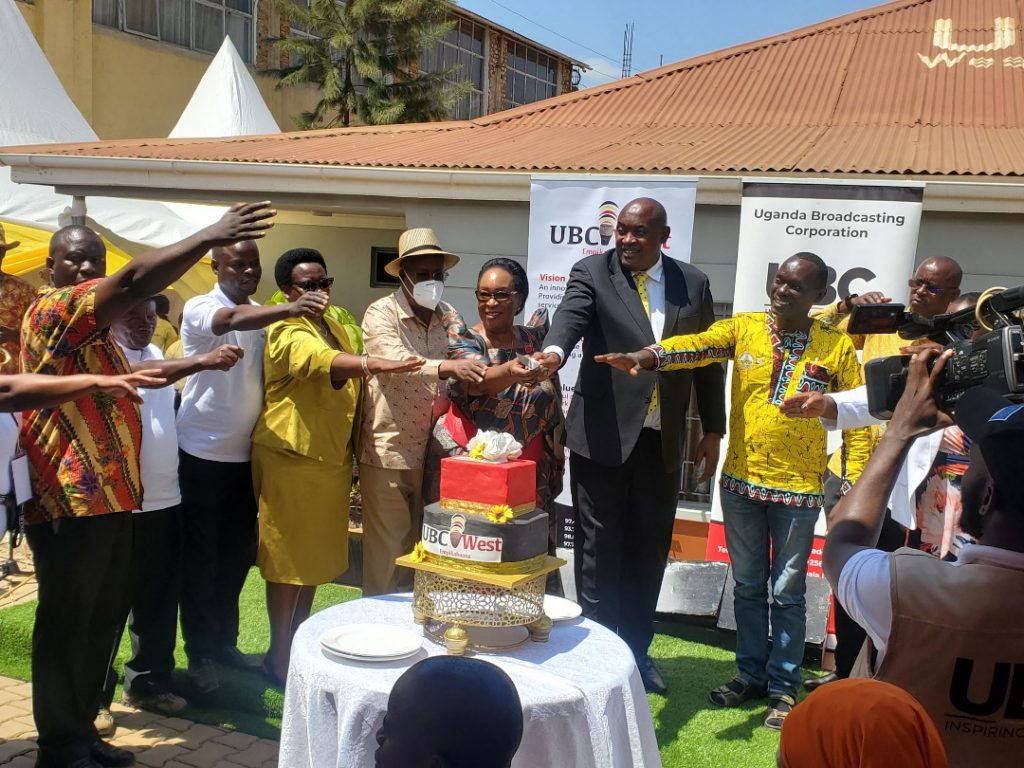 The Launch that started in the early hours of the day was spiced up with several activities including Bicycle racing, Football Competitions and many more.
The new state-of-the-art studios will elevate the quality of broadcasting, opening more areas of Western Uganda to an exciting state of the art radio.
The Launch was also attended by all the Board Members of UBC led by its Chairman Mr. James
Tumusiime, minister of state for ICT Hon Nabossa Ssebugwaawo , Mbarara City and Mbarara district leadership.
The Managing Director of UBC Mr. Winston Agaba David noted that UBC West is just one of the many Radios that UBC is yet to launch. He informed the nation that UBC will launch its UBCWest Nile Fm and Butebo Fm studios very soon. The refurbishment works of UBC Totore FM in Karamoja are ongoing.
UBC West climaxed the day with it's annual crowd puller Mega Party dubbed "Ekitimbure Kya UBCWest". This featured several big artistesincluding Dr Jose Chemeleon, Gravity, Clever J and artistes from Western Uganda.