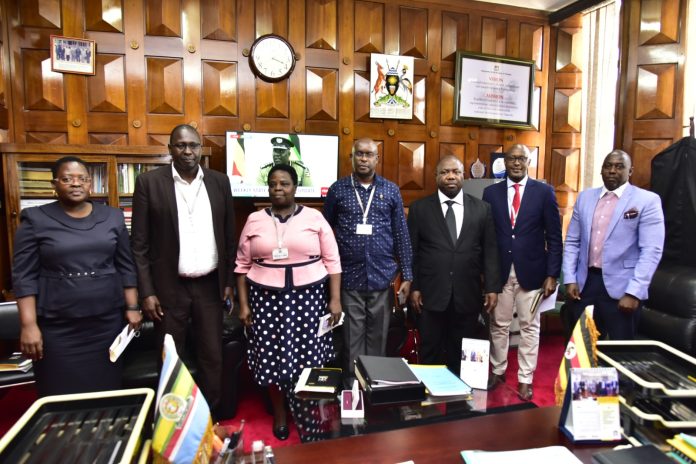 This morning, the Managing Director, Uganda Broadcasting Corporation (UBC), Winston Agaba, met with the Clerk to Parliament, Hon. Adolf Mwesige. Mr Agaba was accompanied by senior UBC executives who included the Deputy Managing Director, Maurice Mugisha, Head of Sales and Marketing, William Odoch, Manager Radios, Doreen Ndeezi and the UBC Parliament Account Executive, Ceasar Kiiza.
The Clerk to Parliament, Hon Adolf Mwesige welcomed the UBC team and reiterated Parliament`s desire to take the August House to the public. This he said can only be done through the media, Radio and Television.
We would like Parliament to reach as many Ugandans as possible, the voters need to know what Parliament is doing, this is accountability to the voters and constituencies, Hon Adolf said.
The Managing Director UBC, Mr Agaba, assured the Clerk of renewed efforts to provide Parliament with more visibility and airtime on all UBC platforms. He said, "UBC will deploy all its resources to Parliament to ensure the August house receives the National coverage it deserves".
The Clerk and UBC Managing Director discussed other areas of mutual interest, including the need for Parliament to support the call on government to increase its budget support to UBC.
UBC is currently operating 4 TV stations and 11 Radio Stations across the country and broadcasts in 27 languages.
Also in attendance were senior staff of Parliament.