By Samuel Ssenono
Uganda's national carrier Uganda airlines has been granted landing rights into China.
In a letter to Uganda Civil Aviation Authority, the Civil Aviation Administration of China (CAAC) has accepted the resumption of scheduled passenger flights between China and Uganda. To this end, Uganda has been allowed to operate up to one (1) one weekly flight to any point in China except Beijing and Shanghai. Uganda Airlines currently flies to eleven (11) destinations using a fleet of six including four CRJ Mitsubishi 900 jetliners formerly Bombardier deployed on the regional routes and two wide body airbus A330-800 NEO aircraft. The A330's are deployed on the airline's long haul route to Dubai in the United Arab Emirates plans are also in advanced stages to launch flights to China, United Kingdom, India and Saudi Arabia.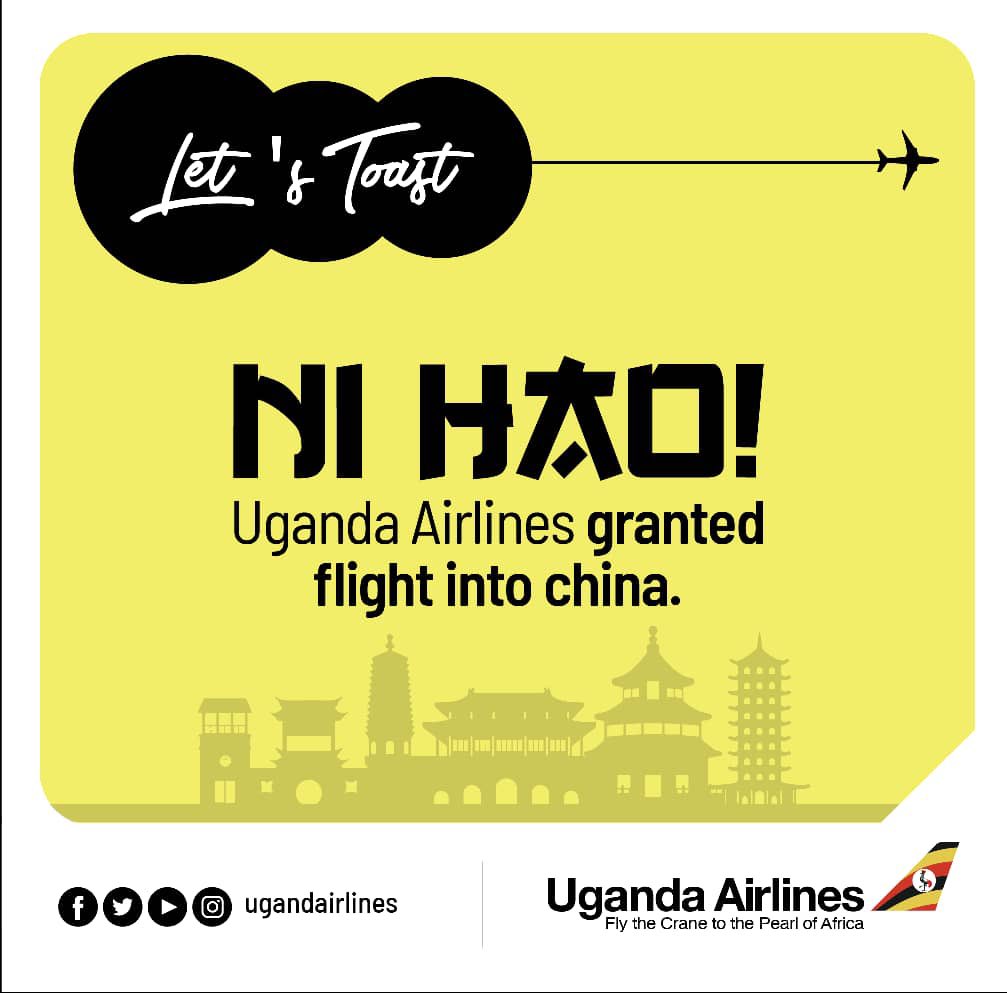 The Civil Aviation Administration of China is implementing prevention and control measures on international passenger flights. In light of the restoration of connectivity, CAAC is taking a gradual approach to resume passenger flights between the two countries considering Covid 19 prevention. Now CAAC awaits Uganda Airlines' response on all arrangements regarding the route schedules that include the original point in Uganda and the destination point in China, except Beijing and China.
What this means for the Airlines and the Country
The business case for China is progressive; there have been a lot of trade and business transactions between the two countries. In 2020, China exported goods worth $1.18B to Uganda . The main products that China exported to Uganda are Broadcasting Equipment ($52M), Pesticides ($31M), and Delivery Trucks ($29.2M). During the last 25 years the exports of China to Uganda have increased at an annualised rate of 17.3%, from $21.6M in 1995 to $1.18B in 2020. Uganda on the other hand exported goods to china worth $40.5M . The main products that Uganda exported to China were Oily seeds ($17.9M), Gelatin ($7.61M), and Coffee ($5.48M). During the last 25 years the exports of Uganda to China have increased at an annualised rate of 26.4%, from $115k in 1995 to $40.5M in 2020 according to the observatory of economic complexity.
Its highly touted that the a direct flight between China and Uganda will reduce on the trade imbalance Uganda has with China. Uganda Airline's will target Local business people/traders, government officials, students, tourists and investors. When Contacted the Airline's Corporate affairs and Public Relations head – Shakila Rahim Lamar said this will be major game changer in the airline's operations.
"Currently, there is no direct flight from Entebbe to China which brings an amazing opportunity to tap into this gap. This also comes at a time when the Airline is planning to launch its self-handling project in July 2022. The self-handling project will support its ground-handling arm in areas of passenger processing and check-in, baggage handling, ramp handling and security" She said.